By Mike Festa, State Director, AARP Massachusetts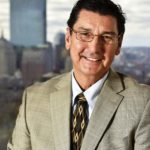 Tax filing season will soon be upon us, and AARP can help! Retirement or other life changes may mean your taxes are a little more complicated now. The AARP Foundation Tax-Aide program offers free tax preparation and filing help to those in need, especially adults 50 and older, during tax season. You do not have to be an AARP member nor be retired to use this free service.
With the help of our team of IRS-certified volunteers, Tax-Aide makes it easier for you.  AARP Foundation Tax-Aide volunteers receive complete tax preparation training and IRS certification prior to working with taxpayers. Last year, 675 AARP Foundation Tax-Aide volunteers helped more than 44,865 Massachusetts residents file their federal and state tax returns.
The program is offered at approximately 220 sites in Massachusetts (and over 5,000 locations nationwide) including senior centers, libraries and other convenient locations.
Many older, low-income taxpayers miss out on the credits and deductions they've earned because they can't afford to pay for professional tax preparation. However, AARP Foundation Tax-Aide volunteers can help eligible residents apply for credits such as the Massachusetts Senior Circuit Breaker Tax Credit, which, under certain circumstances, can be applied retroactively for up to three years.
The program runs from Wednesday, Feb. 1, 2017, through early April. A new software program is being used this year, and as such, some returns may take up to 90 minutes to complete. Clients are asked to bring last year's tax returns, Social Security card, photo ID, and documents related to income, expenses, deductions, and healthcare coverage documentation to their appointment.
To find an AARP Foundation Tax-Aide site in your community during the tax season, call the toll-free number at 888-AARP-NOW (888-227-7669) or visit AARP.org/findtaxhelp.
AARP Foundation Tax-Aide has grown remarkably since its inaugural team of just four volunteers in 1968. The program now involves nearly 35,000 volunteers and serves 2.7 million taxpayers annually at more than 5,000 sites nationwide with free tax help. Taxpayers who used AARP Foundation Tax-Aide received $1.41 billion in income tax refunds and more than $240 million in Earned Income Tax Credits (EITCs).
AARP Foundation operates the AARP Tax-Aide program under a cooperative agreement with the IRS. To help you complete your tax forms, AARP's trained and IRS-certified volunteers will see personal information that you give them about you and your finances. This information is strictly confidential. We will not share your information with anyone except as necessary to accurately file your tax returns or as otherwise required by law.
AARP is a nonprofit, non-partisan membership organization for people 50 and over. We have approximately 825,000 members in Massachusetts and nearly 38 million nationwide. Our state legislative priorities are consistent with AARP's all volunteer national Board of Directors and focus on removing barriers for caregivers, protecting and improving in-home and community-based long term services and supports, strengthening the financial security of 50+ residents, improving health care access and quality, and making health care more  affordable.
    Mike Festa is the state director for AARP Massachusetts. Archives of articles from previous issues can be read at www.fiftyplusadvocate.com.