By Brian Goslow
WORCESTER —
The owners of the Dodge Park Rest Home and Day Club have announced plans to construct a two-building nursing and rest home complex for Alzheimer's and dementia sufferers.
The 82-unit Oasis at Dodge Park will be built across the street from the current Randolph Road facility, on the site of the former Odd Fellows Home, a local landmark built in the 1800s that has gone unused for two decades and will soon be demolished to make way for the new facility.
Construction of Oasis at Dodge Park will start this fall with the opening scheduled for October 2014.
"We found an increased need for individuals with memory impairment, dementia and Alzheimer's to be cared for in a setting and environment that is not a nursing home," said co-owner and executive director Micha Shalev. "Most of those people we have right now, at Dodge Park, and those people who would be across the street, are people that would not be able to be cared for in assisted living. They need a higher level of care and they need better direct-care staffing in order to accommodate their activity of daily living."
The ability to acquire the property immediately across the street was crucial to Shalev's and co-owner and administrator Ben Herlinger's ability to expand the institution while not compromising their mission to be hands-on owners. "We knew it would be easier for us to continue our management style on both campuses, with one across the street from the other," Shalev said. "One of the unique and key features we have at Dodge Park is that we are on site and involved with all operations 24/7."
Shalev and Herlinger said they instill a resident-centered program at Dodge Park and strive to have families feel like co-partners in the care of their loved ones by making themselves available by cellphone or e-mail around the clock. "It's a very unique system where the owners are on the floor," Herlinger said. "We know everyone and the residents and their family members know us."
The expansion became necessary as the current facility, licensed for 60 people, was getting more requests for placement than it had capacity for. The new complex is designed to house individuals with dementia and Alzheimer's disease with different levels of activities and accommodations depending on need.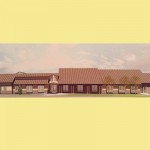 Shalev and Herlinger said the concept for the design of the Oasis at Dodge Park came from their nearly 27 years in the assisted-care and nursing-home business. They wanted a facility that would have the feel of luxurious hotel-style living, but with a home-like feel. To keep residents active physically and mentally, the facility will be constructed to encourage the enjoyment of the outside world, with a large central courtyard and backyard gardens intended to keep their senses active in fully secure areas.
"They will able to roam around completely. They won't be able to leave, but still will be able to enjoy the freedom to go sit down at the patio and have some coffee there or walk with their children and stroll in the garden we're going to have between the two complexes on the Oasis site," Shalev said.
Two dining rooms will be built around the courtyard, allowing residents to see the outdoors while they eat. The main living room will have a two-story high ceiling and have lots of glass for exterior viewing. "In any portion of the building, residents will have access to full daylight and exterior landscaping," Shalev said.
Programs at Oasis at Dodge Park will build on the original facility's offering of constant activities from 7 a.m.-9:30 p.m., seven days a week, to keep residents engaged. The owners found clients who used to have behavior problems open up once they participate in arts and crafts and painting programs and they look forward to their next project. Music and sing-a-longs also have proven to be invaluable in getting residents who might have been inactive and silent to become talkative.
These breakthroughs are "part of the most rewarding aspect of what we do," Herlinger said. "It is the most rewarding feeling you've ever felt. You get a hug or a kiss, even a look of recognition from somebody who has full dementia — they recognize you and you can see it in their eyes, it's the most rewarding thing."
Residents with limited mobility will be encouraged to walk around — thus the Oasis design of welcoming places filled with plants, where residents will want to frequent and, if they've got green thumbs, participate in the upkeep.
Technology also will play a role in residents' lives with big screens supplying information that will help keep them in the moment. "Here they can see the weather, what activities and what meals are being offered (on a given day) in beautiful color in a large font," Shalev said. "This makes a big difference for them."