By David Wilkening, Contributing Writer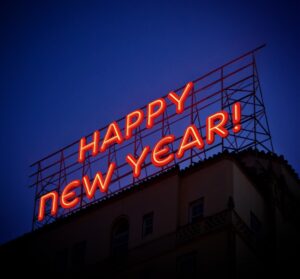 REGION – New Year's resolutions are a popular way for people to make positive changes in their lives. And it's something people have been doing for perhaps longer than you think.
A long history
The concept of a new year as a renewed chance for people to make desired changes is an ancient practice going back 4,000 years, to the Babylonians. 
Historians say it was part of a 12-day ceremony that often promised to honor the new year by paying off debts, a practice that led to the reward of a favorable response to do better.  It was not originally called that but it is believed to have acquired its term "resolution" for the first time in the January 1, 1813, issue of a Boston newspaper when an unknown writer gave it the term.
If you ask about it, most people will admit―sometimes reluctantly―that they have made New Year's resolutions. Even the city of Boston has gotten into the resolution game over the years. "For many, maintaining yourself through essential self-care (sleep, food, hydration, and scheduled rest) may be the most helpful and attainable goal, and it is okay for it to be the primary focus," the city said through the mayor's office.
Reasons for being skeptical

While Americans have taken warmly to the ancient habit, their response is a lot colder. Most routinely fail at it. Year after year, being healthier is consistently the most popular New Year's resolution, whether that's eating healthier, exercising more, or losing weight. 
Up to 40 percent of Americans in a recent year committed to changing something in the new year, like losing a few pounds, or simply enjoying life more. In one recent survey, more than half the resolutions made in January faded by February. Older people are no different: They had the same record for failure. Many individuals failed because they simply forgot what they had promised.
But there were also successful resolutions: 16 percent in one study. Here's a secret to that success.
Limiting them is the key, suggests Boston Evening Therapy Associates of Brookline in an article on its website. "If you set a small number of goals, rather than a long list, you can focus more of your energy toward them and are more likely to be effective," it said.
What doesn't work? "One common mistake is to have too many goals," said Harvard Vanguard Medical Associates. 
There's more, of course. But that's a start.
Surveys regularly backed up those findings. Too many resolutions were among the most frequently cited reasons for their failure, according to survey respondents.
Value in failure
But no matter. It's not the improved performance promise but the actual attempt itself―particularly for older people. Setting resolutions has practical value when you're over 50 as it can have an important impact on your overall health. Resolutions provide us with goals and purpose in everyday life―important goals on their own. 
Rush University has conducted major studies that show people who view life with a sense of purpose are two to four times less likely to get Alzheimer's Disease. And a study in the Journal of the American Medical Association showed that older adults with a solid sense of purpose tend to retain strong hand grips and walking speeds―positive indicators of how rapidly people are aging. If you're still skeptical that failure here is perhaps as important as success, consider the Columbia University study showing that people who are enthusiastic and content are less likely to develop heart disease.
As you might imagine, some of the most successful resolutions are often the simplest practices. For one example: staying hydrated or simply drinking several glasses of water every day, with eight glasses usually the ideal. "It is essential for overall health and brain function," said Matt Browne,  owner of  Boston-based MB Fitness and Training. It also can contribute to keeping dietary goals on the right track. "Drinking water throughout the day will help prevent you from eating high calorie snacks or drinking high calorie beverages," he said. 
Other resolutions might be classified as simple physical changes and often don't require a lot of effort; some can be traced back to Babylonian times. Why? They seem to be universal self-help human desires with the ideal time to begin anew: the new year. 
Boston Evening Therapy Associates said up to 50 percent of resolutions fail. But there are some things that can be done, however. Some experts included these suggestions to increase chances for success. Many of them are simple efforts you might never have thought about because of their obvious nature. 
Some resolutions are easy

The start of a fresh new year makes an ideal time for older people to schedule medical check-ups and a hearing test. Contact your doctor's office to find out which appointments you're due to make.
Go to bed an hour earlier than normal. This helps keep your body on track even though your normal working hours may have changed. This will also help in reducing your TV watching and snack cravings. It might also ensure you get enough sleep, a separate goal in itself.
Set aside more time for reading. Again, the benefits are obvious. On average, readers enjoy better physical health, greater empathy, and better overall mental health than non-readers, according to various studies.
Try something new that is outside your usual scope. If you are not well-known for having a "green thumb," take up a new hobby such as planting a vegetable garden. If you're not in any way an athlete, try a new sport. Increasingly popular pickleball has quickly become a popular sport that is easy to learn. 
Decide to spread kindness to strangers, stay in touch with friends or vow to find ways of being a better neighbor.
Don't be discouraged

And remember, even if you don't keep all of your New Year's resolutions, just making the effort has value as well. Forgive yourself for not being perfect. Any positive activity is almost always better than doing nothing.
RELATED CONTENT: 
Walking is the latest 'wonder drug' for good health (fiftyplusadvocate.com)
Study ties reading books to longer life (fiftyplusadvocate.com)
Happiness as a state of mind (fiftyplusadvocate.com)