By Dakota Antelman, Contributing Writer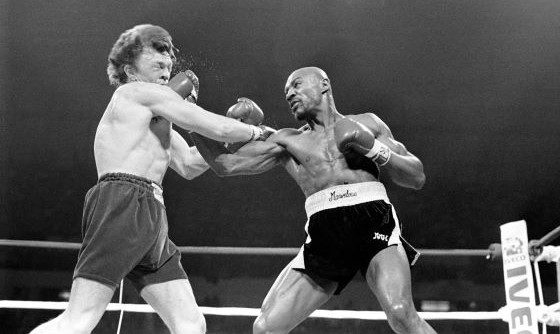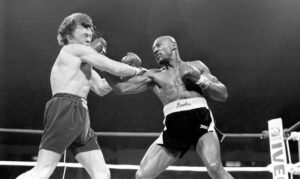 Brockton – Joe Angelo remembers barnstorming around the country, following hometown hero Marvin Hagler through an iconic and unrivalled career at the pinnacle of competitive boxing.
Indeed, he and a group of fellow residents from Brockton, which Hagler called home, chased their superstar around the country, putting massive bets on his bouts and sitting in front rows as opponents withered under his blows. 
"We took the ride with Marvin," Angelo said. "That ride was a great ride to be on…It was the greatest boxing you've ever seen in your life."
As Hagler fought, his career only continued a local boxing legacy that had already seen fellow Brockton athlete Rocky Marciano dominate the fighting world through the 1950s. 
Over 50-years after Marciano died in a plane crash in 1969, Hagler's sudden death, just last month, continues another grim legacy of sports heroes taken at relatively young ages.
Two champions from the same city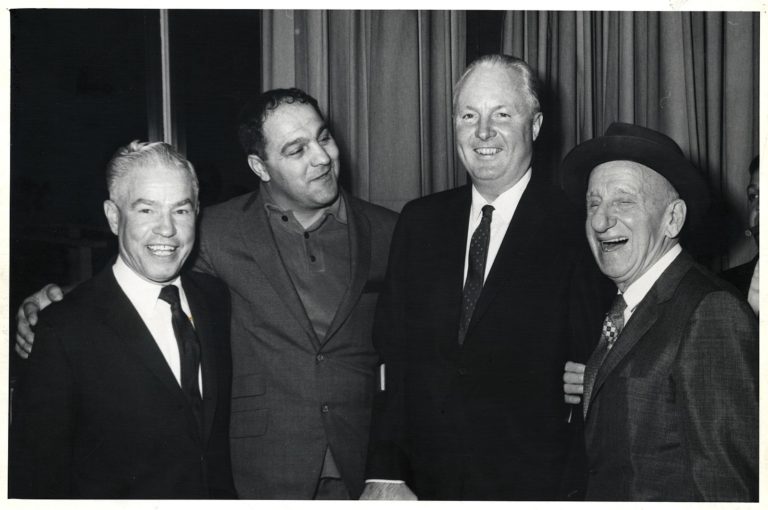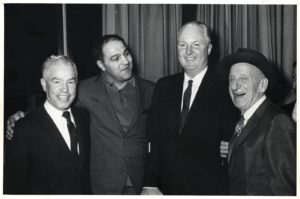 Marciano dominated the ring for eight years between 1947 and 1955. He held the world championship title for four of those years and finished his career as the only undefeated heavyweight champion in history. 
He won all 46 of his professional fights and is still remembered as a boxer capable of delivering titanic knockouts to men much bigger than him. 
Hagler, meanwhile, moved to town in 1967. Six years later, he made his professional debut in the boxing ring, kicking off a career that would culminate with seven years spent as the middleweight world champion. 
Larger than life outside the ring and merciless with gloves on, Hagler set records for knockouts and pummeled opponents who challenged him. 
"He could hit anybody with either hand," Angelo said of Hagler. "You couldn't hurt him."
Local bar owner collects boxing memorabilia 
These days, Angelo is a historian, of sorts. He runs a bar near downtown Brockton that regularly bustles with customers. 
Inside, he's decorated the place with old photos, framed news clippings and painted portraits that tell the stories of both Marciano and Hagler. 
Behind one projector screen, a massive floor to ceiling mural shows Marciano grinning through a ruffled brow in the midst of a fight. 
When Angelo retracted that screen for a photo, recently, the still running projector splashed bright footage of modern Bruins hockey players across Marciano's big red 1950s gloves. 
"Everybody is family in this city," Angelo said of local attitudes towards Marciano and Hagler.
Driven by pain, boxers seek a way out
Reflecting on the records of both Marciano and Hagler, Angelo sees twin stories of hunger.
Marciano grew up in the Great Depression. He watched his parents struggle and felt his own anxieties as a young man.
Hagler grew up Black in Newark, New Jersey in the era of racial strife that was the 1960s. When police brutality sparked a series of deadly riots in his neighborhood, his family first slept beneath their beds to hide from gunfire. Then, they moved to Brockton.
"They wanted to get out," Angelo said of both Marciano and Hagler. "They wanted to make something of themselves. Boxing was their tool."
Boxing legacies stretch onward for decades
Decades after Hagler left the ring, boxing's place in Brockton has endured. 
After he died in a plane crash in 1969, just two years after Hagler arrived in Brockton, Marciano's community mourned him. It still does, to this day. 
He's got a statue memorializing him. 
The local post office bears his name. 
Marciano Way, in town, is named after him.
His son has spent the last three years selling a line of wines named after Marciano. 
"Rocky died way too young," Angelo said. "He could have done a lot of good things with the rest of his time. But it just wasn't to be. He got on that plane and didn't make it."
Hagler's story is different and alike.
He passed just last month in Bartlett, New Hampshire where he had spent large chunks of time since he retired. He was 66.
Announcing the news, Hagler's wife Kay provided no specifics on how Hagler died, just saying his passing was unexpected.
Until very recently, Hagler had continued to pass through town from time to time, visiting Angelo's bar and appearing at retirement ceremonies for younger area athletes. 
As of January of this year, Angelo was working to get a statue erected in Hagler's honor.
While Brockton mourned his death, meanwhile, Gov. Charlie Baker formally declared May 23 Marvelous Marvin Hagler Day in recognition of Hagler and the "Marvelous" nickname he enshrined as his legal name during the height of his boxing career.
Boxers exist as role models for Brockton residents
Ultimately, as Brockton's boxers introduced this sometimes-struggling city to the world, legacies feel local in 2021. 
Those legacies live on even as both Marciano and Hagler have passed away.
"Everybody aspires to be [like them]," Angelo said. "When you have success, people want to be around success."