By Bonnie Adams, Managing Editor
Worcester – Micha Shalev, co-owner of Dodge Park Rest Home and Oasis at Dodge Park, has been announced as this year's recipient of the Grand Lodge of the Independent Order of Odd Fellows' Community Service Award.
Shalev will be honored by the Odd Fellows during its 24th annual Arthritis Charity Saturday, Dec. 8, at the Manor Restaurant in West Boylston.
Dodge Park Rest Home has earned an impressive list of accolades over the years for its unique model of deeply compassionate Alzheimer's and dementia care. In 2017, along with business partner Ben Herlinger, Shalev opened Oasis at Dodge Park, a state-of-the-art facility specifically designed around the needs of individuals with memory loss and cognitive disabilities.
The Odd Fellows is a nonprofit group whose motto is "Friendship, Love and Truth," as they "strive to make the world a better place in which to live." All proceeds from the Charity Ball will be donated to the National Arthritis Foundation.
For Shalev, giving back to the community has always been a priority.
"It was always my mission in life to do better by helping others. Since moving to Worcester in 2006, both [Herlinger] and I have assisted numerous nonprofit organizations and individuals via cross-partnership to support those less fortunate," Shalev said. "For me, the definition of community support and service is a mission identical to my mission to assist our employees, help our company grow and take good care of our residents. I am very fortunate that we found Worcester and call the community home."
Being honored with this award has great meaning, he noted, as he sees the impact of arthritis on a daily basis in many of his patients.
"Arthritis is a major contributor to disability among older people and is especially disabling for older women, who have higher prevalence rates and greater disability than their male counterparts," Shalev said.
Studies of the relationship of arthritis to long-term care use indicate that arthritis can cause disability that may result in being homebound, which, in turn is a risk factor for nursing home use, according to Shalev.
"It is possible that previous analyses that included arthritis and disability as competing risk factors for nursing home use underestimate the contribution of arthritis because arthritis is a risk factor for disability; thus, the two variables may be strongly correlated," he explained.
"First and most fundamentally, we need to understand risk factors for the development of the most prevalent and disabling forms of musculoskeletal disease in the elderly – osteoarthritis and osteoporosis," Shalev noted. "In the absence of known risk factors, little can be done to prevent the onset of these conditions, which affect large numbers of older Americans."
Past community service recipients have included Amy Vogel Waters, director of Elder Affairs/Worcester Senior Center; Attorney Sumner B. Tilton, Fletcher, Tilton & Whipple, P.C.; former District Attorney John. J. Conte; former Massachusetts Lt. Gov. Timothy Murray; and Dr. Dennis D. Berkey, former president of Worcester Polytechnic Institute.
To be included on such a list left him humbled and honored, Shalev said.
"I was involved with the Arthritis Foundation since moving into Worcester back in 2006 through the first ball gala hosted by my dear friend Mr. Clarence Plant from the Odd Fellow," he noted.
"In life, you don't wake up one morning with a mission to get recognized or get an award. I personally like to work behind the scenes and always bring my leadership team to the front spotlight. At the end of the day, you are only as good as your employees," he said.
"I am a very family oriented guy and it is always important to me to remember that nothing in life is more important than family. Sometimes I look around me and see individuals struggling in their personal or professional life; I feel so blessed," he added.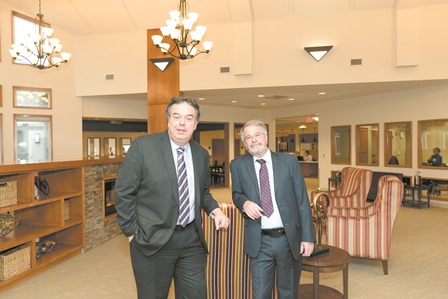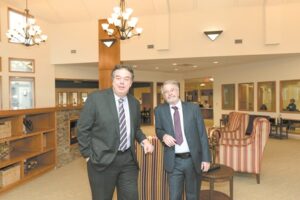 "At the same time I would like to acknowledge my wonderful management team at Dodge Park and Oasis at Dodge Park that help me every single day to provide a unique experience for all our residents, and to allow me to help so many in the community."