By Jane Keller Gordon, Assistant Editor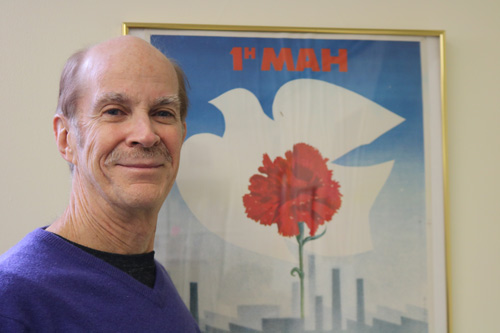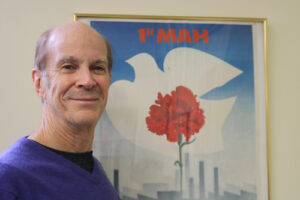 Malden – Stephen Lewis is passionate about worldwide workers' struggles, unions, peace, and the women's movement. It's not surprising that stored in his attic of his Malden home, he has 7,100 posters relating to these topics and more.
For the past 10 years or so, Lewis has traveled the state mounting poster exhibitions, thanks to the support — to date — of 27 local cultural councils of the Mass. Cultural Council. The funds support his travel and inexpensive frames for the posters.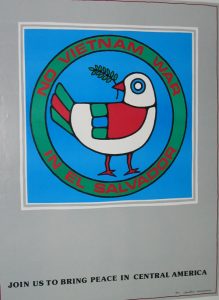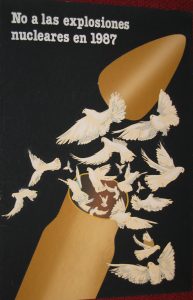 "I wasn't connected to unions, but I was a child of the '60s, and that set the stage for me," he said. "I grew up in Rockland, Maine, feet away from the town's annual summer lobster festival."
Attending college at Northeastern University brought Lewis in closer contact with war protests. He graduated with a degree in business, and landed a job managing a unit at Boston Children's Hospital. From there he moved onto managing records at a rehab hospital. And that's where he got his first big taste of a union.
Three months into his job, the union went on strike. Lewis, who was not a member, refused to cross the picket line. But a week later, with the union's permission, he did.
"I went in to see what was happening in the hospital, and was met by a security team, and was fired on the spot. Along with the union members, we were all blacklisted from the medical field," he recalled.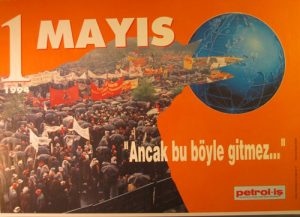 He went on to work a number of jobs, from street worker to eventually, a long time career with the state as a case manager for the mentally ill.
He was a member of the Services Employees International Union for over 30 years. Lewis became a labor leader and political activist.
Now this explains his poster collection.
"By virtue of being an activist leader in my union, I frequently went to conferences and brought home posters, and people would bring posters to me from their organizations and other countries," he said.
"At one point, I made a conscious decision to try to find posters. When I travel for vacation, I figure out the best place to get posters."
Virtually all of Lewis's posters have been given to him. He said that he purchased 1/10 of a percent, mostly in Cuba for a dollar or two a piece.
From the start, Lewis has maintained a spreadsheet of his collection, which enables him to sort by topic, country of origin, artist, and date. His oldest poster is from 1898, featuring a worker's party in Belgium.
Lewis has created 20 different themes for exhibits, such as May Day, International Woman's Day,
workers' struggles, and anti-apartheid.
He said that that he has fantasized about having a poster museum. He's on his way to the next best thing, the Stephen Lewis Archives, which will be housed at UMass Boston.
At present, his posters are being scanned at the Boston Public Library.
Lewis's collection is far from complete. This past January, on a trip to Barcelona, he collected 175 posters, which he rolled and jammed into his favorite tube.
"I had to destroy the tube to get the posters out," he noted. "I wasn't happy about it."
No doubt, Lewis will acquire another favorite tube, and there are more posters to be found.
Lewis may be contacted at lewisposters@gmail.com.