By Ed Karvoski Jr., Culture Editor
Melrose – Larry Gamst of Melrose renewed his health, fitness and life goals within recent years. In 2017, he completed his fourth marathon, fifth half marathon and first Half Ironman, which consists of a 1.2-mile swim, 56-mile bicycle ride and 13.1-mile run. The triathletes' organization TriFury voted him the most improved member in 2017.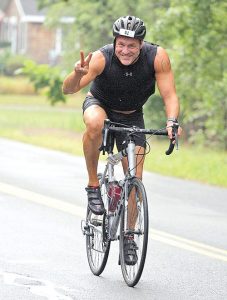 Preparing for these feats began for him one day at a time as of Oct. 12, 2013, his sobriety date.
"I was a daily drinker and it stopped being fun," he shared. "I had been athletic, always into health and fitness. Then when I got into my 30s it was like a switch; all of a sudden the drinking and party life took over. For over a decade I was engaged in a lot of heavy drinking, unhealthy living and not much exercise. I got tired of it and decided there's a lot more to life than hanging around at bars and partying."
Gamst played basketball and football while attending Malden Catholic High, where he graduated in 1984. He studied communications and played intramural sports at Boston College. His athletic hiatus began after graduating from BC in 1989.
"When I first got sober I was so out of shape," he acknowledged. "I had high blood pressure, high cholesterol and was pre-diabetic. I had a 46-inch waist and would get out of breath just going up a flight of stairs."
After running for a few months with about a year of sobriety, he completed the Somerville Homeless Coalition 5K Road Race in his division's top 10. Soon afterward, he placed second in the Team Chase 5K for Autism Speaks & Somerville Special Education.
In 2015, Gamst ran his first Boston Marathon followed by the Marine Corps Marathon in Arlington, Va., and Washington, D.C. Shortly before his third consecutive Boston Marathon in 2017, he underwent physical therapy for Achilles tendonitis.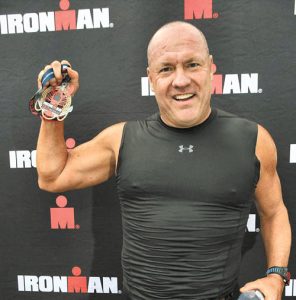 "I had to sit out and not train at all for about a month going into the 2017 Boston Marathon," he relayed. "Despite my Achilles tendonitis, I ran a new personal best by nearly 30 minutes."
Another new venture for him in 2015 was the Howling Wolf Half Marathon in Stoneham. He next participated in the Hampton Half Marathon in N.H., and the Baystate Half Marathon in Lowell. In 2017, he finished first in his division in the Harwich Cranberry Harvest Half Marathon. He set a new personal best in Harwich and again a few weeks later in his second Baystate in Lowell.
Although Gamst didn't swim or own a bicycle, he tried two triathlons in 2016. Disappointed with his results, he studied YouTube swim instruction videos and joined the triathletes' organization TriFury. In 2017, he finished in his division second in the Boston Triathlon and third in Lakeville Cranberry Trifest. Also in 2017, he finished in his division's top 10 in his first Half
Ironman in Old Orchard Beach, Maine.
Gamst dove into the 2018 race season this past spring with successful results. He completed first in his age group in two Everett road races: the Family Strength Initiative Foundation for Autism 5K and the Solidarity for All 5K. In his division, he completed third in the New England Season Opener Triathlon in Hopkinton, and first in the Johnny Kelley Half Marathon in Hyannis.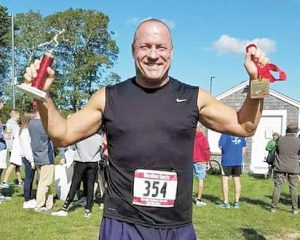 During that time, he was treated by multiple doctors for what they had diagnosed as allergies, asthma or acid reflux. While swimming in the Patriot Half Triathlon in Freetown on June 16, he coughed uncontrollably and withdrew from the competition. Blood tests at an emergency room revealed his actual health issue: five blocked arteries.
"After five stents, I feel great," he declared. "I survived this without any heart damage because I'm in such good shape."
He had planned to bicycle 150 miles in the two-day Bike MS on June 30 and July 1 with his friends, actor-comedian Lenny Clarke and brother Mike Clarke, owner of Giggles Comedy Club in Saugus. While unable to bicycle two weeks after his health scare, Gamst has continued fundraising for the National Multiple Sclerosis Society. Donations to his MS fundraising can be made through Sunday, Sept. 30, online at bit.ly/2K9oO8y.
Gamst is hopeful to participate as planned in upcoming athletic competitions.
"There will always be challenges in front of us," he said. "You can either dwell on them or move forward – that's my attitude. I'm going to keep moving forward, having fun and staying healthy."