By Jane Keller Gordon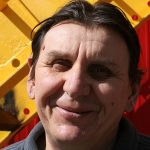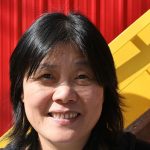 Acton – Driving north along Quarry Road in Acton, next to a tan house, there is a huge granite statue that seems out of place. To the right, a dirt road leads into a forest. What lies beyond — a sculpture garden and art center called The Quarry — is well worth a visit.
Spread over 12.9 beautiful acres, The Quarry, also known as Contemporary Arts International, showcases more than 100 outdoor sculptures, including many by its founder Yin Peet, and her partner Viktor Lois, an ingenious kinetic sculptor. Each piece is sited in harmony with nature.
Peet, a sculptor and performance artist, and Lois, a kinetic sculptor and sound engineer, are both internationally known artists. Both are also immigrants to the United States. Peet came from Taiwan in 1982 and Lois from Hungary 2006.
Their first collaboration, "Container Man," a mammoth sculpture built on a 40-foot shipping container platform, is the center point in The Quarry's 7,000 square-foot Red Box Building. Conceived by Peet and completed in 2002, after seven years of work by Lois, it includes 14 unique electronic instruments, made from washing machine drums, typewriters, industrial gates, and more.
"Viktor and I performed concerts on 'Container Man' touring through the Taiwan and Eastern Europe. It was an amazing experience," Peet said. "Since bringing the piece to The Quarry in 2008, we have continued to perform, and have been honored to host numerous others who have created music on this epic piece."
The Red Box Building also houses two galleries, studios, and classrooms.
Arched over the entrance to the building is the 36-foot tall bright yellow sculpture called "Sound Man," also made from shipping container platforms.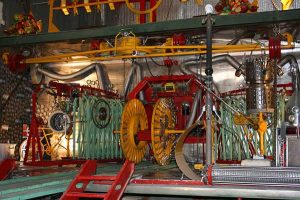 "Wind is my sculpture's composer and performer. It turns the sculpture's head, randomly activating five out of seven switches, which results in sound projected through speakers," Lois said.
In the center of The Quarry, there is a stunning 1.5-acre pond. Twenty-seven cars were hauled out of this body of water in the mid-1970s. Now pristine, the pond is rimmed with sculptures, including Lois's most recent piece, aptly named the "Water Scooper."
When the Red Box Building was constructed, granite blocks from the old quarry – in many shapes and sizes – were uncovered. Yin and Lois created a long stacked pile of these rocks, which has become an important part of The Quarry.
Lois named the rock pile, "New Art Archaeology."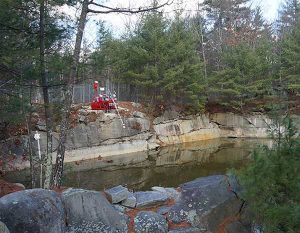 "We bring together stone sculptors from here and all over the world who each leave their creative traces, anticipating the future generations will enjoy this archaeological site," he said.
Since 2011, Peet and Lois have hosted an annual summer carving symposiums. Each year they invite four or five artists; there were eight artists in 2013. Some are local, and others have been from Hungary, England, Taiwan and Peru.
Figures, animals, birds, fish and symbols are spread over the granite pile, reflecting a variety of styles. With diamond blades and special granite tools, each artist painstakingly chisels their own personal style – rough and polished, big and small.
This coming season, Acton TV will be co-producing a weekly series on "Life of Sounds," Lois' kinetic musical sculptured instruments. During several episodes, the program will showcase the construction and sound of Lois' instruments.
From July 8 to Oct. 7, The Quarry will host an exhibition called "Before Ending of the Journey," featuring 30 large-scale paintings by Taiwanese artist Tai Ming-Te.
The Quarry is open to visitors Thursdays through Sundays, from 2-5 p.m. It is closed during the summer stone-carving symposium (Aug. 5- 26). A $10 entrance fee helps support The Quarry, which is a 501(c)(3) nonprofit. The Quarry is located at 68 Quarry Road in Acton. For more information, visit contemporaryartsinternational.org.