By Ed Karvoski Jr., Culture Editor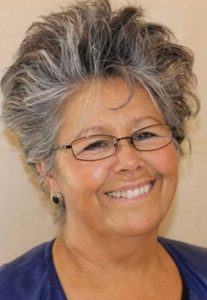 Greater Boston – Following a two-decade law career, Roberta Robinson's personal experience as her mother's caregiver has compelled her to pursue working with the senior population in various capacities for about 30 years. She currently hosts two television programs designed for an audience of seniors. Each 30-minute show airs on public-access stations in Arlington, Boston, Cambridge, Chelsea, Everett, Malden, Revere, Somerville and Watertown. Episodes also air on YouTube and stream on some stations' websites.
Since 2006, Robinson has served as director of marketing and outreach at Cambridge Health Alliance (CHA) for its geriatric division and Elder Service Plan, which is part of the national Program of All-inclusive Care for the Elderly (PACE) assisting people age 55 and over. According to the Mass.gov website, "PACE is administered by MassHealth and Medicare to provide a wide range of medical, social, recreational and wellness services to eligible participants. The goal of PACE is to allow participants to live safely in their homes instead of in nursing homes."
Robinson understands firsthand the value of programs such as PACE to help seniors and their adult children.
"Caring for my mother was definitely the impetus for my coming into elder services," she said. "I was my mother's PACE program. Her transitioning process was very slow and subtle. I could have used a whole team to help me. Sometimes, I don't know if PACE is more beneficial to the participants or to their caregivers."
In 2012, Robinson united CHA's efforts with Cambridge Community Television to begin producing "Health is Wealth." To reach a larger audience, she successfully approached eight other cable-TV stations that are now airing the show. Each month she interviews medical experts on health-related topics of interest to seniors. Past topics have included chronic pain, diabetes, falls and frailty, hearing loss, pacemakers, prostate cancer, thyroids and vertigo.
Robinson herself frequently learns from information offered by the show's guests including podiatrist Dr. Michael Theodoulou. He discussed with her common myths about shoes – and debunked them.
"He said if shoes don't feel comfortable from the beginning, then they're not for you," she relayed. "We've come to believe that shoes need to be stretched out to make them more comfortable, but he said that's not so."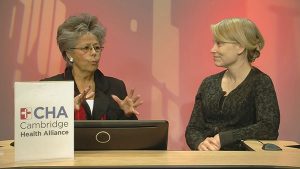 Immediately upon Robinson's chance meeting in 2014 with Erica Jones, membership and outreach director at Somerville Community Access Television (SCATV), it was discovered that they shared the same idea to create a TV show to showcase notable seniors. CHA partnered with SCATV and their idea became "Legacies: a Journey through the Interesting Lives of Elders." The program airs on the same nine cable-TV stations as "Health is Wealth."
Somerville Police Officer Maryanne Manfra suggested "Legacies" first guest, Joe Trofimow.
"Joe was born in Yugoslavia during the German invasion," Robinson explained. "He talked about how he was in a school for shelter. His mother brought him through four camps to get out to the United States."
Another memorable guest for Richardson is Elynor Gittens of Somerville.
"Elynor is a cutie pie," she declared. "She was a dancer and is still an activist. At 88, she had a sign on her walker that said, 'Black Lives Matter.'"
Robinson also offers health presentations at Boston-area events for older adults. For information about scheduling a presentation, email her at rrobinson@challiance.org.
"My mother passed at 89," Robinson noted. "Her father was three months shy of 100 when he passed, and my great grandmother was sent a dozen red roses for her 100th from President John F. Kennedy. I could be here for a long time – so I better do this thing called life right."