By Ed Karvoski Jr., Culture Editor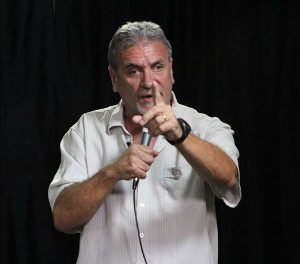 Gardner/Lynn – Like many comedians, Jerry Caruso of Gardner maintains a busy performance schedule. Unlike most others, however, his calendar is also chock-filled with teaching stand-up comedy, organizing fundraisers' entertainment, fulfilling speaking engagements and hosting a cable-television show.
While growing up in Lynn, Caruso at age 12 began entertaining his classmates in the schoolyard at the now-closed St. Patrick's School. He continued honing his comedic craft at St. Mary's High School by impersonating celebrities as the feature act for his class of 1973's senior banquet.
"I'd make students laugh in classes, so I was slightly disruptive," he acknowledged. "When I performed at a pep rally my senior year, the following school day other students gathered around me. Sister Monica banged her pointer to get my attention, saying, 'Oh, star! Can I teach my class now, star?' The nuns accepted me for who I am – to a point."
His sense of humor was also appreciated while working at the now-defunct Digital Equipment Corporation in Hudson. In 1993, he roasted an employee who was leaving the company at her going-away party. The good-natured roast was well-received by co-workers.
"They told me that I should try performing at Nick's Comedy Stop in Boston and they'd go see me there," Caruso relayed. "I did – and have never looked back."
Now, his onstage banter includes recollections of growing up in an Italian family. His father was from Boston's North End and his mother from Italy. Caruso asked his mom why she's reluctant to see him perform.
Mimicking her accent, he recounted, "'They all-ah gonna laugh at you!' My sister forced her to see me at a Chinese restaurant in Peabody. She was like a heckler during my set, saying, 'That-sah not true! He-sah telling a joke!'"
Although Caruso's father passed away of cancer in 1983, his presence is felt during the comedian's shows.
"My dad thought I was funny and should do comedy onstage," Caruso shared. "I always get inspired when I'm onstage knowing that he's watching me from a great seat in heaven."
A year after pursuing a comedy career, Caruso and friend Toney Markus co-founded Comics for a Cure. Caruso organizes fundraisers' lineups and performs with them.
"I do a good amount of the legwork to make it easy for the nonprofit organization, family or cause," he explained. "They only have to find a place to hold the event, publicize it and sell tickets."
In 1999, Caruso began teaching a stand-up comedy course at Mount Wachusett Community College in Gardner, and has since added Quinsigamond Community College in Worcester. His comedic curriculum covers joke writing, developing stage presence and booking gigs. Students have ranged from eighth grade to age 83.
"I had 83- and 75-year-old guys who were so natural and cool," Caruso recalled. "They reminded me of the old-time comics who would do anything to make people laugh."
Upon graduation, his students appear on Athol-Orange Community Television's "The Jerry Caruso Comedy Hour." His show also features noteworthy community residents and a roundtable with veteran comedians.
As a motivational speaker since 2002, he has discussed the healthful benefits of humor at venues including Relay for Life events for the American Cancer Society, the Brain Injury Association of Massachusetts, and support groups at Heywood Hospital in Gardner.
Additionally, Caruso volunteers regularly to perform at AstraZeneca Hope Lodge Center in Boston, a "home away from home" for cancer patients traveling over 40 miles to treatments
"I thank God that I have the ability to make people laugh," he said. "I enjoy helping others as much as humanly possible."
For more information about Jerry Caruso, visit jerrygcarusocomic.webs.com.