Livingston Taylor
photos / MM/ADKINS
By Jane Keller Gordon, Assistant Editor
Newton – Musician Livingston Taylor's essence has been captured in a new feature length documentary, "Life is Good," by Peter Fish and Tracey Anarella, who are partners in life and the film's co-producers. Packed with music and dialogue, the film is named after Taylor's 1988 song, "Life is Good." The film reveals that Taylor is truly defined by the song's lyrics — "Life is good when you're proud of what you do, giving your all to others and it all comes back to you."
Taylor is a member of a musically famous family that includes his siblings James and Kate Taylor, former sister-in-law Carly Simon, niece Sally Taylor and nephews Ben and Isaac Taylor.
Anarella has directed several award-winning short documentaries. Her highly regarded, award-winning first feature length documentary, "Not Black Enough," can be seen on Amazon Prime. Fish is a multi-Emmy winning composer, who has expanded his focus to include content.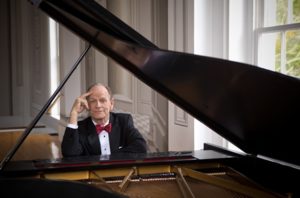 Fish and Anarella connected with Taylor, through Simon, for whom Fish was a producer. They were aware that Taylor was a gifted songwriter and performer, but knew less about his life and the depth of his knowledge.
They did not know that since 1989, Taylor has changed the lives of thousands of students by teaching stage performance at Berklee College of Music; that he is an enthusiastic pilot and motorcyclist, author, and lifelong learner who continues to strive to understand how things work; that he has released 20 albums since he was 19 years old; and that he has performed throughout Massachusetts, where he has lived during his adult life.
There's a lot more to Taylor than meets the eye. He's a bow tie-wearing Renaissance man and mentor, not just a teacher, songwriter, and performer.
Once Anarella got to know Taylor, she described him as, "(One) part Mark Twain, one part WC Fields, one part musical icon — a man whose life is testament to the concept that 'Life is Good.'"
Taylor was enthusiastic about a film that focused on his students, rather than himself.
"Films should be made about ambitious, enthusiastic, good looking young people, not me. You should film my classes. My students are engines of hope," he told Anarella. "They have a vision of themselves as being their contemporaries' creators. That's bold."
Given a green light — with Fish by her side — Anarella launched into a two-year odyssey filming Taylor's classes. Fortunately, they were able to spend time with Taylor at his home in Martha's Vineyard, and at his performances in Asbury Park N.J., Chatham N.J., and Rockville Center, N.Y. Anarella even got to fly with Taylor in his Cessna.
In addition, Anarella interviewed several people important in Taylor's life: Tom Chapin (the late Harry Chapin's brother), Ian Anderson (Jethro Tull), Don Law (concert promoter), Roger Brown (Berklee's president), and members of his family.
Throughout the film, Anarella interweaves Berklee classroom scenes, interviews, stunning performances, and Taylor's pontifications on mechanical devices and life. There's a bounty of insights about Taylor in the film.
Isaac, the son of Taylor's brother Hugh, described his uncle in a way that sounded like lyrics to a song.
"[Taylor's] curiously is insatiable… It's so deep that it's hard to find for him sometimes, but when he quenches his thirst from that well he wants you to be with him and to know where it's coming from."
Ben, James's son, added that Taylor's concerts are "… a performance, a lecture, a lesson, a dissertation."
A few times during the film, Chapin, who is a close friend to Taylor and has performed with him, discussed that they were both in the same business as a famous brother.
As for Berklee, Taylor said that he trolls the school's cafeteria to recruit students. By the numbers, that hardly seems necessary. Taylor said that he teaches 100 students a semester.
While every student's issue is different — connecting with the audience, articulation, tempo, releasing his or her full voice — there is universality to Taylor's message. In fact, he has printed a list of common themes.
Berklee graduate Nick Veine's musical gifts were further developed at the school, but it was Taylor who profoundly impacted his performance.
"Taylor's class irreversibly improved my writing, my singing, my performing, my playing, all of it," Veine said.
Another student, Julia Edelston commented, "Taylor doesn't just see the world through rose tinted glass, his are rainbow. He just sort of sees everything in brighter colors."
Summing it all up, Taylor said, "According to an actuarial table, I have 18.6 years left to live. I plan to spend that time combining observation, enthusiasm, and as much gratitude as possible… I'm not interested in interesting human beings, I'm interested in interested human beings."
The documentary will be presented at Firehouse Center for the Arts, Market Square in Newburyport Monday, May 7 at 8 p.m. Tickets maybe purchased at www.firehouse.org.
For more information on the documentary, visit www.traceyanarella.com.
At some time, the DVD will be available for purchase through this website.
Taylor's concert schedule and more information may be found on his website, www.livingstontaylor.com.