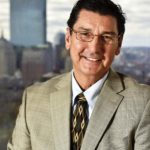 By Mike Festa, State Director, AARP Massachusetts
AARP Massachusetts is hard at work fighting for the interests of older adults across the Commonwealth, and is proud to announce our support of two bills currently under consideration in the legislature.
Nurse Licensure Compact
AARP Massachusetts staff and volunteers spoke at a recent State House hearing in support of House Bill No. 1188, An Act Relative to Nurse Licensure Compact in Massachusetts. This bill, which allows nurses to practice across state lines, will create an expedited and less administratively burdensome process for nurses seeking licensure in multiple states.
According to estimates from the University of Massachusetts Donahue Institute, the number of adults 60 and over in Massachusetts will soon eclipse the under-20 age cohort for the first time in recorded history. By the next Census in 2020, the 60-plus group will comprise 24 percent of the population. And the aging population of Massachusetts will continue to grow along with its unique issues related to the workforce, financial, health and long-term care needs.
In recent years, AARP has focused more attention and resources to help family caregivers. In Massachusetts alone, there are 844,000 family caregivers, providing help and support to a loved one who wants to remain in their home and community. Registered nurses are vital to these family caregivers. They provide high-quality primary, acute and specialty healthcare services.  AARP strongly supports states adopting reciprocal licensure standards or interstate reciprocity compacts for nurses.
Telemedicine
AARP Massachusetts also supports House Bill No. 578 and Senate Bill No.549, An Act Advancing and Expanding Access to Telemedicine Services.
AARP Massachusetts supports coverage and reimbursement of telemedicine services to improve access and quality of care, allow patients to remain safely in the community, and assist with care transitions from institutional to community settings. This legislation would ensure that healthcare services will be covered regardless of whether they are delivered in-person or using new technology.
The provisions in House Bill No. 578 and Senate Bill No. 549 will provide coverage of telemedicine services for Medicaid enrollees in managed care contracts; allow health care facilities to adopt credentialing by proxy agreement; and that cost-sharing for telemedicine services will not exceed the cost-sharing requirements provided through in-person services.
The broad scope of telemedicine presents a vehicle to help achieve the triple aim of better health care, improved health outcomes, and lower costs. It is widely acknowledged for its potential to ameliorate healthcare workforce issues by creating efficiencies and extending the reach of existing providers. With the potential to overcome access and other barriers, telemedicine is also viewed as a means to reduce health disparities for aging and underserved populations, as well as reduce costs and burdens for patients.
We believe expanding the use of telemedicine as a new tool for delivering care has the capacity to provide patients with better access to quality health care. This is especially true for older adults or those with chronic health conditions that directly limit their mobility. Not every medical condition warrants or requires a trip to a doctor's office or a clinic. This may also be true for Massachusetts residents who live in rural areas of the state or in locations where there may be shortages of healthcare providers.
The use of telemedicine holds the promise of helping not only patients but their family caregivers access both acute care services and long-term services and supports in new ways. By connecting family caregivers with doctors and other healthcare providers through the use of telemedicine, family caregivers are able to receive important information and instructions on how to best care for their loved one, something that is vital when a loved one is discharged from a hospital and caregivers are called upon to perform medical and nursing tasks.
AARP Massachusetts urges the legislature to favorably pass House Bill No. 578 and Senate Bill No. 549 and improve the health system for patients and family caregivers.