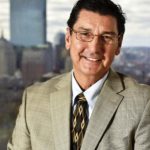 By Mike Festa, State Director, AARP Massachusetts
AARP Massachusetts is thrilled to announce that the Caregiver Advise, Record, Enable (CARE) Act has been signed into law by Governor Charles Baker. AARP Massachusetts thanks Governor Baker and state lawmakers for enacting this important legislation to support family caregivers. The CARE Act, known in the Massachusetts Legislature as H.3911, recognizes the critical role family caregivers play in keeping their loved ones at home, and out of costly institutions. In 2015 in Massachusetts, family caregivers provided 786 million hours of unpaid care valued at approximately $11.6 billion annually. Massachusetts is the 34th state to enact the CARE Act.
On behalf of our 800,000 members, AARP Massachusetts thanks lead co-sponsors Senator Linda Dorcena Forry (D-Dorchester) and Representative Chris Walsh (D-Framingham) for their leadership and tenacious advocacy on behalf of all family caregivers. This law provides essential support to family caregivers who are often called on to provide complex medical care for which they receive little or no instruction. Additionally, we thank the 16 partner organizations that supported this bill and our tireless band of volunteer advocates who stood with us and supported the CARE Act through this legislative session.
The CARE Act goes into effect in fall 2017. The law features three important provisions related to the family caregiver's role when their loved one is hospitalized:
The hospital patient is provided with an opportunity to designate a family caregiver;
The family caregiver is notified if the patient is to be discharged to another facility or back home; and,
The facility must provide an explanation and live instruction of the medical tasks – such as medication management, injections, wound care, and transfers – that the family caregiver will perform at home.
Please join AARP Massachusetts in thanking Governor Baker and the Massachusetts State Legislature for supporting the CARE Act in Massachusetts and for supporting more than 844,000 Bay State residents who are caring for an aging parent or loved one, helping them to live independently in their own homes. These family caregivers have a huge responsibility, and the CARE Act is a commonsense step that will make a world of difference to them.
Stay up to date on the latest caregiving and advocacy news with AARP Massachusetts. Visit www.aarp.org/ma or call toll free at 866-448-3621.
AARP is a nonprofit, non-partisan membership organization for people 50 and over. We have approximately 800,000 members in Massachusetts and nearly 38 million nationwide. Our state legislative priorities are consistent with AARP's all volunteer national Board of Directors and focus on removing barriers for caregivers, protecting and improving in-home and community-based long term services and supports, strengthening the financial security of 50-plus residents, improving healthcare access and quality, and making health care more affordable.