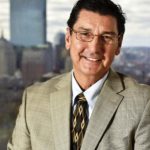 By Mike Festa, State Director, AARP Massachusetts
It's that time of year again!  Medicare Open enrollment is your opportunity to make changes in your coverage that best meet your current needs, help you save money, and see if a different plan may work better for you.
The Medicare Open Enrollment period runs from October 15 to December 7. During this time, if you want, you can switch from traditional Medicare to a Medicare Advantage plan, or vice versa, from one Part D drug plan to another, or from one Medicare Advantage plan to another. Any changes you make will take effect January 1, 2017.  AARP strongly encourages people who have Medicare to review their options each year during Medicare's open enrollment period and choose the plan or plans that best fit their needs.
Review all your Medicare plan options at www.Medicare.gov/find-a-plan or call Medicare at 800-633-4227.
When selecting a plan, you should consider the 4 C's:
COSTS, including the monthly premium, the annual deductible and cost-sharing; COVERAGE for the doctors and pharmacies included in the plan and the prescription drugs and other services you need; CONVENIENCE of the doctors and pharmacies in your plan; and CUSTOMER SERVICE, or the quality ratings, which are provided for most Medicare Advantage and Part D prescription drug plans. These ratings are based on the quality of care and customer service each plan provides and can be found at www.Medicare.gov/quality-care-finder.
AARP has extensive educational materials and resources to help Medicare beneficiaries and their families navigate the many choices available to them and make informed decisions, including our Medicare Starter Kit.  Visit www.aarp.org/health/medicare-insurance/medicare-starter-kit.
If you are currently enrolled in a Medicare Advantage or Part D drug plan, you should carefully read its "Annual Notice of Change" to review any changes to your current plan's costs and coverage and compare them with other plans available to you during open enrollment.
Even if you already chose a plan, if you do not feel it fits your needs for any reason, you are able to choose another plan, so long as the process is complete by Wednesday, Dec. 7, the end of Medicare open enrollment. Signing up with a new plan automatically cancels coverage under the old one.
Alternatively, a certified counselor from the SHINE (Serving the Health Insurance Needs of Everyone) program can help you find the plan that best meets your needs.  The SHINE Program is a state health insurance assistance program that provides free health insurance information, counseling and assistance to Massachusetts residents with Medicare and their caregivers. The SHINE Program is administered by the Massachusetts Executive Office of Elder Affairs in partnership with elder service agencies, social service and community based agencies and Councils on Aging.
But if you're happy with the plan you have now, you need do nothing.  Your current plan will continue into next year, although its coverage and costs may be different from this year's.
AARP is a nonprofit, non-partisan membership organization for people 50 and over. We have approximately 825,000 members in Massachusetts and nearly 38 million nationwide. Our state legislative priorities are consistent with AARP's all volunteer national Board of Directors and focus on removing barriers for caregivers, protecting and improving in-home and community-based long term services and supports, strengthening the financial security of 50+ residents, improving health care access and quality, and making health care more  affordable.
    Mike Festa is the state director for AARP Massachusetts.