Joanne Laubacher teaches a small class at Harmony Crossing
Photo/Bonnie Adams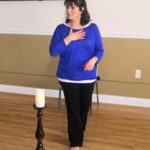 By Bonnie Adams, Managing Editor
Nearly 10 years ago, Joanne Laubacher was at a crossroads of sorts. Like many women, she was juggling a career while taking care of her family which included her three children and her mother, who was facing serious medical challenges.
As she visited her mother in the different facilities where she was being treated, Laubacher was struck, she said, by many of the other seniors she met who were "vibrant, eager to learn something new and very funny."
"They still had so much to share," she added.
When her mother ultimately passed away from her illness, Laubacher knew "it was time to make a change, to do something nourishing, not only for me, but for others, too."
Inspired by the example of her father, Frank Murano, a still-active 95-year-old, she knew that incorporating motion into one's daily life was essential, for both physical and mental wellbeing.
About five years ago, Laubacher decided to pursue getting her certification to teach chair yoga for seniors. It has been, she said, "the best decision I ever made."
Now, throughout the week, the youthful-looking 59-year-old holds classes at senior centers, nursing homes and private over-55 developments, including a small class at Harmony Crossing in East Bridgewater. The chair class model allows participants who may not have the strength and flexibility of their younger years to still enjoy the benefits of stretching and gentle movements.
"I love the quote, 'Start where you are, use what you have and do what you can,'" Laubacher said. "There's no judgment or comparison here. I don't always come in with a preconceived plan. I listen to my students and what they need for that day. They might want to really stretch or they might want to focus on breath work."
The mental health benefits are just as important, she stressed.
"I teach that's it's all about the balance, how to balance the stresses of your life," she noted.
"Many of these students are not only facing their own challenges but also those of family members. Yoga helps them center themselves, to learn to 'breathe it out,' and this is an hour they can take to care for themselves, head to toe."
Before a recent class at Harmony Crossing, the students, all women ranging from mid-70s to early 80s, discussed how chair yoga has affected their lives.
Jeannette Adams has now been taking classes for four years, first at a local senior center and now at Harmony Crossing. Due to a lingering knee injury she is limited to what kinds of physical activity she can do. The yoga classes, she said, help her keep flexible.
"It also helps calm my mind," she added.
Chris Cassidy is an active octogenarian who tap danced up until just a few years ago.
"But I knew since I couldn't dance anymore I needed to find something. It's so important to keep moving – when you can't do one thing, you need to try another," she said. "So I decided to try one of Joanne's yoga classes at the Abington Senior Center. I then asked her if she would consider teaching here [at Harmony Crossing] and she agreed."
Like several other women in the group, Jackie Monahan's husband passed away after a prolonged illness. Taking the chair yoga class was something that helped her through that time.
"I love it," she said. "It is a good stress relief."
Laubacher noted that she gets as much out of the classes as do her students.
"I absolutely love doing this; it's my passion," she said. "I am so grateful to be able to work with these wonderful seniors."