By Mike Festa, State Director
AARP Massachusetts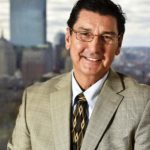 There are 40 million Americans, 844,000 in Massachusetts, who help care for aging parents, spouses, or loved ones, helping them to live independently in their own homes. These family caregivers provide unpaid care valued at $11.6 billion annually. Caregivers have a huge responsibility and can take some common sense steps that would make the world of difference to them. That's why AARP Massachusetts urges passage of The Caregiver Advise, Record, Enable (CARE) Act to better support family caregivers as they help seniors stay safely at home.
The CARE Act (H. 3911), co-sponsored by State Sen. Linda Dorcena Forry (D-Dorchester) and State Rep. Chris Walsh, (D-Framingham) recognizes the critical role family caregivers play in keeping their loved ones out of costly institutions. The bill features three important provisions:
The hospital patient is provided with an opportunity to designate a family caregiver;
The family caregiver is notified if the loved one is to be discharged to another facility or back home;
The facility must provide an explanation and live instruction of the medical tasks – such as medication management, injections, wound care and transfers – that the family caregiver will perform at home.
In late December, the Joint Committee on Public Health favorably passed the CARE Act with some very technical changes. The bill is now with the Joint Committee on Health Care Financing. If the CARE Act is passed this legislative session, Massachusetts would join 18 other states that have already passed the CARE Act.
According to the 2015 report "Caregiving in the U.S.," an AARP and National Alliance for Caregiving study, nearly 40 million Americans in 2014 were providing unpaid care to people who are older, disabled, or otherwise in need of assistance. A quarter were millennials, and half were under the age of 50. By 2020, 117 million Americans are expected to need assistance of some kind, yet the overall number of unpaid caregivers is only expected to reach 45 million.
More information about caregivers:
When it comes to family dynamics, caregiving is the norm. If you're not a caregiver now, you were one in the past, or you'll likely be one in the future.
Family caregivers help their older loved ones with: bathing and dressing; meal preparation; managing finances; transportation; grocery shopping – as well as complex medical tasks like wound care, injections, medication management and more.
Family caregivers help keep their loved ones at home and out of costly institutions like nursing homes – often paid for by the state through Medicaid.
The average family caregiver is a 49-year-old female, who takes care of a 77-year-old woman – usually her mother. She provides 20 hours a week of assistance to her loved one, while also working.
Some family caregivers are on call 24/7; often they can't even take a break.
The ratio of potential family caregivers to the growing number of older people has already begun a steep decline. In 2010, there were 7.2 potential family caregivers for every person age 80 and older. By 2030, that ratio will fall sharply to 4 to 1, and is projected to drop further to 3 to 1 in 2050.
Family caregivers report that the stress of caregiving affects their physical and emotional health, finances and their jobs.
In 2014, the majority (60 percent) of family caregivers had full- or part-time jobs.
Please call your legislators and let them know that you support the CARE Act in Massachusetts. For more information, call 866-448-3621 or email ma@aarp.org.