Anna Connors
File photo/Ed Karvoski Jr.
By Ed Karvoski Jr., Contributing Writer
Anna Connors of Shrewsbury has always been physically active. She studied dance from age 5 through her 20s. Then she became a competitive runner and completed marathons. Now 62, she continues a disciplined exercise routine after a 2006 diagnosis of primary progressive multiple sclerosis (MS).
"I vowed to take care of myself and not let this get me down," said Connors, a regional ambassador for the MS Foundation.
March is National MS Awareness Month, but year-round she shares her experience and hope with others in similar situations.
"They can keep their mind and body going," she advised. "Get out there and find a passion."
Several years ago, Connors noticed her right knee ached while doing step aerobics. A sports medicine doctor did MRIs and referred her to a neurologist. More testing followed for over a year before she was finally diagnosed. Her condition didn't improve after three chemotherapy treatments.
"I felt terrible," she said. "I decided to just keep exercising."
Soon after moving 14 years ago from California to Massachusetts, Connors joined the Boroughs Family Branch YMCA in Westborough. In addition to swimming and working out on machines three times weekly, she serves on that branch's Board of Governors. Joining her there for hydrobics in the pool is Maggie Harling, 62, of Northborough, who also has MS. They also participate in a therapy horseback-riding program twice monthly, year-round in Brimfield.
Connors and Harling attend a support group at the MS Center at the UMass Memorial Medical Center, University Campus, in Worcester. In 2014, they led a meeting titled "Yes, You Can!" Hula hoops were used to demonstrate what they and other attendees could do.
"One of the guys happens to have MS and lost an arm in a motorcycle accident," Connors said. "He hula-hooped on his arm that's cut off at the elbow – and was amazed that he could do it."
A few years ago, Connors had a chance meeting with belly-dance performer and instructor Gypsy Phillips, now 77, of Northborough. They casually discussed a weekly dance class at the Shrewsbury Senior Center. Connors acknowledged doubt because it would require balance, but she gave it a try.
"I never turn down a challenge," she said. "Hearing the music got me wondering if I could dance again – and I can. It's a new spark in my life."
Phillips invited Connors to join her Gypsy Moon Dance Company as well its offspring Silver Moon Gypsies, currently consisting of six dancers age 62 to 83 from Millbury, Northborough, Shrewsbury, Southborough and Worcester. They perform at many senior centers, nursing homes and assisted-living facilities in eastern and central Massachusetts.
When the dancers each introduce themselves to audiences, Connors shares her mantra: "Let's not dwell on things we can no longer do; let's broaden our horizons and find something new."
She has observed how patients and residents react to music and dance including in Alzheimer's units.
"The power of music and dance evokes a lot of emotions in them," she said. "You think they're 'not there' and then all of a sudden they perk up."
Another chance meeting introduced Connors to musician Marty Ayotte, 62, of Worcester, who uses a wheelchair and has sit-skied and hand-cycled in half marathons. He reads stories about athletes with disabilities on the program "Audio Journal Sports Page," Fridays from 5 to 6 p.m. Audio Journal is a nonprofit radio, cable and online broadcast service for people throughout central Massachusetts who are blind, visually impaired or otherwise unable to read print. Now, Connors also reads for the weekly program.
"I read stories about disabled people doing anything athletic, adventurous or out of the ordinary – even wheelchair dancing," she explained. "I can relate with people not wanting to give up."
Last July, Connors performed with the Silver Moon Gypsies at the 25th anniversary celebration of the American Disabilities Act (ADA) at Union Station in Worcester. The occasion offered exposure for a good cause, Connor noted.
"It was an eye-opening experience about what the ADA does," she said. "It's bringing to the forefront what people with disabilities go through daily and helping us live productive lives. We are human beings and want to live our lives to the fullest."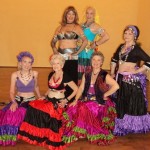 Contact information
MS support group
MS Center at the UMass Memorial Medical Center, University Campus, in Worcester
Contact: Carolyn Griffin, RN MSCN
Phone: 508-856-5006
Silver Moon Gypsies
Contact for info & rates:
Gypsy Phillips –
Phone: 508-393-9371
Website: silvermoongypsies.weebly.com
Email: silvermoongypsies1@gmail.com
Anna Connors –
Email: silvermoongypsies2@gmail.com
Audio Journal
Website: audiojournal.net
Phone: 508-797-1117
Email: info@audiojournal.net