By Bonnie Adams
Managing Editor
This June, hundreds of athletes will converge upon Springfield College to participate in a multitude of sports including track and field events, basketball, swimming and tennis among others. While there is not a skill requirement to participate, some may be very skilled while others may have more limited skills. What the athletes will have in common, however, is that they all have an intense passion for their sport, as much as any pro athlete. The other thing in common? They will all be 40 years and older.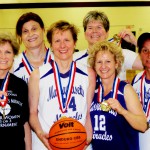 50+ MASG v1 953 v-p  The Massachusetts Senior Games (MASG) is a nonprofit, volunteer organization that brings together older athletes in numerous sports as a way to promote the health and fitness through health education programs, fitness activities and competitive athletic events.
That's its official mission, but the goal, according to the games' Executive Director Larry Lisbow, is simple – "Get fit, have fun and make friends!"
MASG was founded in 1991 by Dr. Jack Neumann of Springfield College. That year 150 older adults participated in a "Fun Walk." The next year 250 athletes competed in 11 different events in sports such as track and field, tennis and swimming.
The first winter games were held in 1995 with over 150 athletes participating in giant slalom, cross country skiing and ice hockey.
In the ensuing years, the numbers continued to grow as more adults realized that they didn't have to put their athletic dreams aside just because they had reached a certain age.
There are minimal fees to enter; corporate sponsors are integral to the event's growth, Lisbow said, with Blue Cross/Blue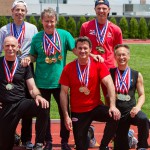 Shield of Massachusetts serving as Presenting Sponsor for many years.
The core sports of the summer games that will be held in Springfield this year are track and field, swimming, basketball, tennis, racquetball, table tennis and volleyball. Other sports, such as whitewater canoeing, kayaking and rock climbing are held throughout the year in other locations throughout the state.
Those who participate in the state games have a chance to qualify for the National Games which are held every other year. The 2015 Summer National Senior Games will be July 3-16 in Minneapolis – St. Paul, Minn. The 2017 National Games will be held in Birmingham, Ala. (Athletes must be 50 or older to participate in the National Games.)
While the summer games feature many traditional sports such as basketball and track and field, there are other sports such as horseshoes and pickle ball making comebacks. Whitewater canoeing, kayaking and rock climbing are popular new additions.
Lisbow noted that officials hope to also add a cognitive health component to future games that would feature such things as Scrabble, chess and poker.
Participating in the games is a great way to ignite passion for a sport that perhaps you played years ago but never stopped loving, Lisbow said.
"Many of the people pursued their individual sport years ago, then took a break due to the time restrictions imposed by family and/or work," he added. "But once they come back they find out there is still that passion."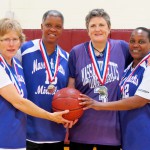 Although Polly Crowninshield, 66, has been an alpine skier for most of her life, it was only a few years ago that she started skiing competitively. Although she had to take a bit of time off for a knee replacement, she is now skiing stronger than ever, and is a consistent medalist in Giant Slalom and Super-G events.
Davis Cox, 75, has always played basketball but last year decided to challenge himself in a different sport – decathlon. He was able to participate in several of the eight events and won the gold medal in long jump for his age group, 75-79. Remarkably, he did so in spite of throwing the discus with his left arm instead of right due to arthritis and using a cane to walk only three weeks before the games.
That experience was life-changing, he said – so much so that he has become an official state ambassador for the games, crisscrossing the state to garner support from corporate sponsors.
He is also training in all of the decathlon events and hopes to qualify for the 2019 International Senior Games.
"I like the way I look in gold! I may never take it off!" he joked.
"That's how important it is to me," he added. "I don't even feel like an old person."
Fred Thompson, who is currently the president of the MASG Board of Directors, has always loved sports since he was a standout football player in college. He even paid his tuition at Washburn University School of Law in Topeka, Kan., as an assistant coach for Washburn, a top football team in the National Association of Intercollegiate Athletics (NAIA). But Thompson chose not to pursue a career in football, instead accepting a number of jobs in the legal field before opening his own private practice. As he raised his family he volunteered his services as a coach in various youth sports.
Now at age 74, he finds a way to exercise every day, whether it be triathlons, cycling, whitewater canoeing, racquetball or Nordic skiing.
Age and skill level should not deter someone from putting on the track shoes, swimsuit or other equipment, Lisbow said.
"We want people to look forward to turning 50 and over, not dreading it," he said. "This is not your grandparents' retirement. We want people to know that whatever their level of athleticism, there is a place for them here."
This year the summer games will be held at Springfield College Saturday, June 13, although there are many other events scheduled for other days in other locations.
Visit the MASG website, www.maseniorgames.org, for more information and details on how to register and become a sponsor.