BROCKTON, MA —
Six days before Gov. Deval Patrick announced his budget cuts to elder home care services, elder rights groups including Old Colony Elder Services (OCES), the Brockton-based regional agency serving older adults and individuals with disabilities, sent him a letter urging him not to hurt vulnerable seniors.
Now that the "9c cuts" have been announced, advocates are again asking the Governor to spare these programs.
In 2008, his first year in office, Gov. Patrick impounded funding passed by the legislature heading for home care and other elder accounts. Now in his final weeks in office, the Governor has once again chosen to reduce $2.37 million in Fiscal Year 2015 funding.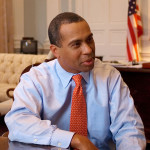 The largest single cut was to home care services. Even before these latest 9c cuts, the home care services account was $2.3 million below where it stood in FY09, seven budget cycles ago. The governor's cuts this week leave the FY15 home care services account $3.8 million below FY09 funding. The care management account is $4.8 million lower than in FY 2009, which means that these two home care program accounts in total are $8.6 million below funding levels seven years ago.
In an attempt to ward off these cuts, six elder rights groups sent a letter to the governor, and his Administration and Finance Secretary, Glen Shor, urging them not to cut further into home care accounts.
"Massachusetts taxpayers save money every single day that someone is not in a nursing facility," said Diana DiGiorgi, executive director of OCES. "People want to receive their care at home. Cutting this investment that creates savings simply makes no sense as fiscal policy while it also hurts some of our most vulnerable citizens."
In the letter hand-delivered to Secretary Shor and the Governor, a number of points were made:
In October 2008, Patrick imposed $15.51 million in 9c cuts to the Executive Office of Elder Affairs (EOEA) line items (9110 accounts). The accounts lost 5.3 percent in overall funding. Impacts of those cuts are still felt today in the EOEA accounts seven budget years later.
The governor's laudable effort to help the home care accounts recover in FY15 will be undone by 9cuts (to the same accounts that the governor restored last spring). Overall, the EOEA account appropriations in FY15 are 13 percent below the $294.98 million benchmark of FY09 ($38.16 million lower).
These home care accounts have had a significant impact on reducing spending in other long-term support accounts, especially [skilled] nursing facility (SNF) appropriations. From 2000 to 2013, patient days paid for by Medicaid (MassHealth) have dropped by more than 33 percent, creating a savings to state and federal taxpayers of $865 million annually.
This is the "home care dividend" that the state receives from its investment in community home care services. There are few state programs that provide an immediate return on investment: when an elder is kept out of a MassHealth nursing facility bed, that same day they can be provided with community care for half the cost.
"We urge the governor to reverse these 9c cuts. Our elders and families have already paid a significant price for 9c cuts over the past seven years," said DiGiorgi.
Advocates are urging the public to call the governor's office (617-725-4005) to ask him to take the 9c cut to elder home care accounts off the table.