By Sondra Shapiro
Savannah may conjure thoughts of John Berendt's 1994 book and subsequent movie, Midnight in the Garden of Good and Evil, about a murder that took place in the Mercer House.
Undeniably, the success of the book helped to boost tourism to the oldest city in Georgia, the last of the original 13 American colonies to be founded.
While the book captured the atmosphere — eccentric characters, breathtaking architecture, oozing with drama, history and charm — a visit provided context and substance.
"The dead are very much with us in Savannah. Everywhere you look there is a reminder of things that were, people who lived. We are keenly aware of our past," uttered a character in Berendt's book.
Indeed, the spirit of James Oglethorpe, who founded what is America's first planned city, was ever present as we navigated architecturally rich streets, anchored by pastoral squares. If the book represents anything, it shows how Savannah inspires storytelling. To that end, my husband and I joined a few walking tours.
Savannah Dan provided a colorful, elementary version of Savannah history. Architectural Savannah, led by Jonathan Stalcup, a graduate with a master's degree from Savannah College of Art and Design, conveyed a deep knowledge of architecture and history bringing the city to life. Finally, since Savannah is purported to be the most haunted city in the country, we enlisted spirit guide, Andee Higgins, of Blue Orb, who enlightened us with the stories behind some of Savannah's famous haunts.
A theme began to emerge among our guides that all Oglethorpe accomplished would have been lost had it not been for a group of concerned women in the 1950s, who single-handedly saved historic structures from the wrecking ball and a restoration movement in the 1970s. The efforts of conservationists helped save more than 1,200 of Savannah's stately homes that had fallen on hard times.
We learned about how the invention of the Cotton Gin in 1793 helped revive an economically struggling community. We heard many tales surrounding the three-day visit to the city in 1825 by Marquis de Lafayette, who had fought at George Washington's side. And we were privy to divergent opinions of the life-long friendship between Civil War General William Sherman and Savannah businessman Charles Green, who lent his Gothic Revival mansion to the general to use as his headquarters, believing the goodwill gesture would save the city from destruction. Sherman spared the city and bestowed it upon President Lincoln for Christmas.
Though the city offers many hop-on, hop-off trolley tours, the 2.5 square mile area — comprised of 22 squares — was easily walkable, allowing us to bask in the lushness of massive live oak trees dripping with Spanish moss, serene squares rich with greenery and monuments that were true works of art.
We started our first day with Savannah Dan, a self-proclaimed "Southern gentleman,"  who greeted our group in Johnson Square, sporting a seersucker suit and wide-brim hat. It is here that we first heard the name Oglethorpe and learned of his utopian ideals that helped create the city in 1733. King George II granted a charter for the colony to primarily act as a buffer zone protecting South Carolina from the advances of Spanish-owned Florida.
Oglethorpe allowed citizens to worship as they pleased — though no Catholics were allowed — and rum, lawyers and slavery were forbidden (for a time).
As our affable guide walked us through seven squares, we heard colorful renditions of historical milestones, folklore and some pop culture references.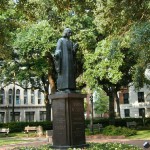 As we stood in Reynolds Square facing the statue of John Wesley, the founder of Methodism, Dan spun a tale of romantic scandal, rivaling any anecdote found in the Berendt novel. Wesley and the comely Sophia Hopkey were an item until Wesley abruptly broke off the relationship. Hopkey accused him of reneging on his promise to marry her. Then, when Hopkey eventually married, she and her husband sued Wesley for refusing to bless the marriage. After the trial, Wesley fled the city and eventually founded the Methodist movement.
Most touching was a story about the friendship between Tomochichi, chief of the Yamacrew tribe, and Oglethorpe. When Tomochichi died in 1739 at age 97, Oglethorpe served as a pallbearer. The chief was buried in Wright Square so he could be among his English friends. But in 1883, he was moved a few feet away to make room for a monument in honor of William Washington Gordon, who built Georgia's first railroad.
Switching to pop culture references, Dan gave us an insider's peek into the movie, Forrest Gump and the famous bus stop bench scene. Filmed in Chippewa Square, the bench Gump sat on was actually a movie prop.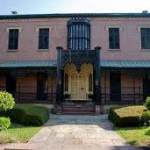 The 90 minute tour was an invaluable primer that helped us plan the rest of our trip — a tour of the birth place of Girl Scout Founder, Juliette Gordon Low; the Green-Meldrim House, where General Sherman took up residence; and the Owens-Thomas House, an architectural masterpiece built in 1816 with indoor plumbing.
Dan also told us about the Pink House, built in 1789 for James Habersham Jr., a cotton agent. The building, one of a few to survive the fire of 1796, is now an award-winning restaurant. On Dan's suggestion, we dined there and enjoyed one of his recommendations, the crispy scored flounder.
Stalcup's architecture tour, which covered the city's founding to the present, included many easily overlooked but important details. In chronological order, we saw buildings representing all the architectural periods of the city, ending at the modern Telfair Museum Jepson Center.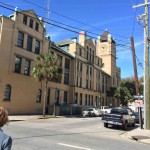 Public buildings that most would walk by without a second glance were singled out, such as the Chatham County Court House, built in 1880 in the Romanesque style and the 1980 postmodern federal offices with an exterior best described as looking like bath tile.
With his gift of making history and architecture easily digestible, the two hours flew by. Stalcup spoke of Oglethorpe's idealistic vision for the colony and its original four squares, Johnson, Percival (now Wright), Ellis and St. James (now Telfair). As the city grew, it added more squares. At its peak, there were 24. Each square had four residential tithing blocks and four civic blocks. Eight surrounding blocks made up a ward.
The types of building materials, house styles and renovations were indicative of everyday lifestyles during a period.
We learned how war — The Revolution, Civil War, World Wars I and II — commerce, worldwide archeological expeditions, transportation methods and active burial grounds influenced architecture.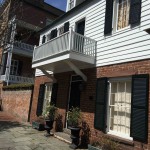 The unassuming, 1760 Christian Camphor house, lost among stately brick and stucco mansions, is the oldest surviving home in Savannah. "The structure is similar to the original Oglethorpe cottage, which was 24 feet facing out, by 16 feet deep, about 400 square feet," Stalcup said.
Considered a typical structure for the period, only the upper wooden portion of the home is original. "In 1871, they put jacks around the house, raised it and built a brick story underneath," said Stalcup.
The earliest structures had a raised basement and two full floors — bedrooms on the top floor and public areas such as dining and parlors on the first floor. Service areas — kitchen and laundry — were in the basement. Because streets were mostly made of sand, raised basements were the norm and helped protect the home from swirling dust. Or, as Savannah Dan put it during our tour with him, because all refuse was thrown out of windows, thereby attracting flies and creating stench, the family wanted to be away from such unpleasantness.
Stalcup also pointed out that homes never had more than one front entrance, so structures we saw sporting multiple entrances were added later to existing buildings. When the economy turned bad in the early 1900s, residents stopped using the larger houses as single-family homes. They began renting out the bottom floor as an office, tavern or restaurant. Or the entire building might be rented out as apartments.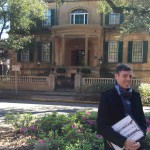 Stalcup's admiration for the city's first architect, British transplant William Jay, was evident as he spoke of the construction of the English Regency, Owens-Thomas House, completed in 1819 for cotton merchant and banker, Richard Richardson and his wife, Francis Bolton. Stalcup rightly recommended a tour of the mansion, which features one of the earliest, urban slave quarters in the South and striking architectural elements. It was Jay's first major commission in Savannah and he pulled out all the stops.
In Columbia Square, we visited two homes of significance. The Federal-style Davenport House, built in 1820, had the distinction of being the first structure to be saved from demolition in 1955 by the group that became the Historic Savannah Foundation. Next door is the Kehoe house, a Queen Anne style home built in 1892 by William Kehoe, who owned the largest iron works foundry in the city. He wanted his home to be an advertisement for his business, so all the white and gray decorative trim, which was normally constructed of wood, is made of cast iron.
We visited the Kehoe house again during Blue Orb's Modern Hauntings Tour. Our guide, Higgins, said that two of the Kehoe's 10 children haunt the home. It seems the twins, who had the misfortune of hiding in the chimney during a game, met their grizzly fate after the nanny lit the fireplace.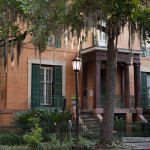 Haunted tours seem de rigueur after dark, as a profusion of hearses crammed with exuberant ghost hunters hit the streets. Our method of investigation began by foot at 10 p.m. and our group of 15 spent two hours wending our way through neighborhoods seemingly filled with ghosts. Even the local CVS is purported to be haunted. Higgins kept a running dialogue in between stops at The 1790 Inn, Sorrel-Weed House and Conrad Aiken home.
Though we never had an encounter, the stories were convincing as our guide used a tablet to show films along the way. Two of the most memorable hauntings:
The Colonial Cemetery — active between 1750 and 1853 — was heavily damaged by Sherman's troops, who used the grounds as a camp. As we stood outside its gates during a dark, chilly night, our guide showed us a film that appears to capture a spirit running, then jumping into tree.
The Bradley Lock and Key, in business since 1883, is crammed from ceiling to floor with strange and spooky bric-a-brac — signs, broken toys, household items and more. It was creepy standing on the narrow, deserted street looking into this shop that looks like something out of the Twilight Zone.
Spirits that attach themselves to objects supposedly haunt the store. The establishment also played host to séances meant to contact Harry Houdini. Owner William Houdini Bradley and his family have a connection to the famous illusionist.
Needless to say, we fought the urge to check under the bed before retiring for the night.
We saved for last a visit to the Mercer-Williams House, which stands prominently at the southwest end of Monterey Square.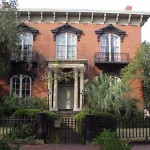 As typical of our visit to the city, the presence of the dead seemed to linger. We expected that Jim Williams, the only person in Georgia ever to be tried four times for the same crime — the murder of his assistant, Danny Hansford, on May 2, 1981 — would appear as we meandered from room to room learning about how the antique dealer and historic preservationist bought and restored countless houses in the Historic District.
Exquisitely designed rooms feature priceless furniture, paintings and accessories; many pieces are museum quality. Not once was the crime mentioned. Yet, we came away feeling we had a more balanced view of Williams.
Throughout Savannah's history, fire, yellow fever epidemics, war and urban renewal threatened to destroy it. Yet, each time, Savannah was saved and stands as a model Southern city — proud of its heritage, historical and notorious figures.
If you go …
Visit Savannah, www.visitsavannah.com; Savannah Dan, 912.398.3777, www.savannahdan.com; Architectural Savannah, 912-604-6354, www.architecturalsavannah.com; Blue Orb Tours, 912-665-4258, blueorbtours.com.