By Sondra L. Shapiro
It is always the trees that I miss most when I move. The memories of planting them, watching them grow through the years, they mark time like nothing else. Living things that I often feel will be around long after I am gone.
As I pack up our home of more than 17 years, I gaze out my front window at the weeping cherry that my husband, David, bought me for the first wedding anniversary that we spent in our home. It was so tiny then, fragile, yet elegant.
As I look at it today, it is tall, full, sturdy and handsome. It has weathered droughts and harsh winters. When it became diseased a few years ago, David lovingly nursed it back to health. Since then, each winter, David has wrapped the tree in a warm jacket to protect it from the harsh New England weather.
Standing at the window I am momentarily conflicted — a feeling that I have been experiencing quite frequently during these recent weeks.
We had decided more than a year ago that we needed to downsize, but now the moment has come. The reality has struck hard. After all, this was our dream house, built with so much anticipation and excitement so many years ago. The time has gone by in a flash. Was it really 18 years ago that we first laid eyes upon this lovely plot of land, and thought this is where we will build our nest?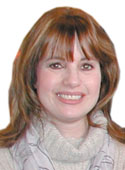 I turned 40 when the frame of the house was complete, and the windows had just been installed. Miraculously, the builder gave David permission to throw me a surprise party in the family room. With a fire extinguisher nearby, the room was lit with dozens of candles. With magic marker, each guest composed loving messages on the back wall. Though the writing is plastered and paneled over, perhaps it's those sentiments that have made that room the most comfortable and happy room in the house.
As I stand in this mostly empty room now, I am resigned that the house has became too difficult to maintain. We are not so young anymore and our lifestyle just doesn't require a large home. But standing here, it doesn't make things easier.
When I drive down the long driveway, I am still amazed by our home's majesty.
As I walk from room to room, I am overwhelmed by echoes of the past:
Of Thanksgiving dinners, Chanukah and New Year's parties, a celebration in honor of David when he received his first-degree black belt and other family and friend gatherings.
Of the winter night, when the moon was full, the stars very bright and the snow was falling as a family of deer made their way through the snow-covered front yard.
And, of our three beloved cats who lived and died here. I can almost see Frodo standing by the fireplace mesmerized by the flames, Delf curled up under a blanket on his favorite chair or Falene at the screen porch door watching for chipmunks.
And of the first day we brought two small kitties home, Spencer and Chloe, after we lost our Falene, and who will now be joining us on new adventures.
This has been a home filled with love and joy. Though, like every family, there has been sickness and some sadness during that time, it is a happy house. You can feel it in every timber.
The possessions have strangely been easier to part with. David and I have become more practical with age. We have gone from accumulating to discarding. With the help of a downsizing company, we have pored through long-forgotten boxes of souvenirs and memorabilia — parting with most. We have sold or given away most of our lovely furnishings and furniture. The antique mahogany dining room table that could seat 12, and the formal living room with its tapestries and antique tables are just too fussy for our new casual lifestyle.
There just isn't enough room in a two-bedroom apartment.
But, the house is another story. It transcends the brick and timber. It is tangible evidence of a life David and I designed and built together, literally and figuratively. Our home is a state of mind.
As we look toward the next phase of our lives, we leave our beautiful home to new caretakers. We bequeath a sturdy foundation built of love and happiness. We just know they will feel it too.
As I gaze outside at that cherry tree, I imagine early spring when the tree reveals its dainty pink flowers. "Pure magic" were the words I would utter at first sight each year.
Now, I see two young girls, a mom and a dad and a dog basking in its grace.