By Christine Galeone, Contributing Writer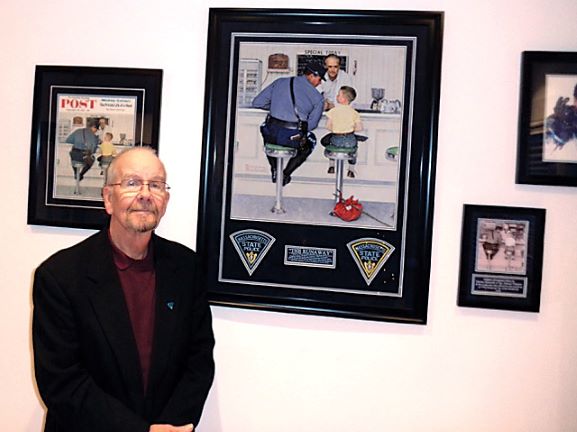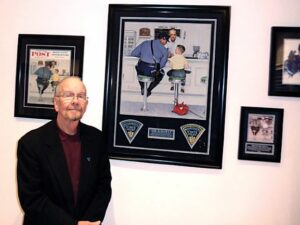 Grafton – In 1958, Ed Locke was an eight-year-old boy having lunch in his school's cafeteria, when fellow Stockbridge resident and iconic artist Norman Rockwell strolled into the lunchroom with the school's principal. The child didn't know that the artist had selected him to pose for "The Runaway," one of Rockwell's most beloved paintings, which was also the cover of the September 20, 1958 issue of "The Saturday Evening Post." 
Rockwell had visited the school hoping to find a boy to model for the painting and chose Locke, because he had the look he envisioned, Locke said. When Rockwell lived in New York, he used professional models, but when he moved to Stockbridge, it was much easier to use his neighbors as models, instead, he added. 
"My mother said to me one day 'Put on a good shirt,'" Locke recalled, noting that she announced that his dad would pick him up at school and take him to pose for the painting. He later joked that his mom was furious when she saw that Rockwell had portrayed the boy wearing an inferior shirt. 
He added, "Rockwell was famous for changing things to fit what his vision was."
At a recent "Runaway Day" event held at the Massachusetts State Police Museum and Learning Center in Grafton, Locke – who also posed for "Before the Shot" – captivated fans of the painting with insights into its creation and its significance. And utilizing the museum's "The Runaway" exhibit, he happily posed for pictures with visitors.  
Besides the shirt, Locke told event attendees about other changes as well. The major ones were the change in setting from the Howard Johnson's restaurant where Locke posed with the then 30-year-old Massachusetts State Trooper Richard Clemens to a diner, because Rockwell wanted it to look like the runaway got farther away, and the replacement of the young man behind the counter, who posed with Locke and Clemens, to an older man, since the artist decided it would be better to show three generations. The alterations were illustrated by a copy of a photo that Rockwell took to originally capture the models. A print of "The Runaway," which depicts a runaway telling his woes to a kind police officer, while the man behind the counter listens as well, also hangs in the museum's exhibit.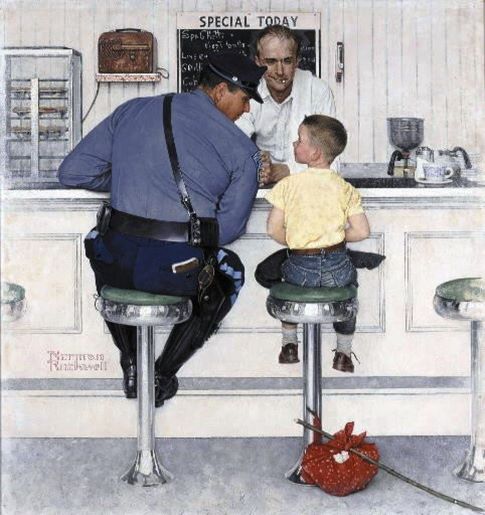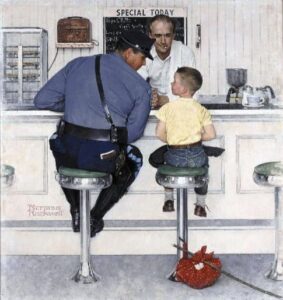 Not only did Locke learn how well Rockwell worked with neighbors who posed for him after the artist moved from New York to Stockbridge, but he also developed a good friendship with Clemens, which began when Locke was in his 20s and both men were taking courses at a community college. That friendship lasted until Clemens passed away in 2012. And even though he enjoys having his likeness on a Pez dispenser, and he's happy that he gets "to meet nice folks," Locke said he is also honored to be part of the painting's legacy, which he began to understand when he was in his 40s and signing prints at a golf tournament. He was moved by police officers who told him how much the painting meant to them. 
"It was then that I realized how important it was," he said.    
Thomas Daly, the curator of education at the Norman Rockwell Museum in Stockbridge, is also aware of that importance. He was at the event to give a talk. 
"It's been very impactful," Daly said about "The Runaway." 
He noted that his museum's staff has been amazed at how much interest in the painting there has been from people throughout the country and Canada. He said that members of the military are also drawn to it.
He added, "It is an image that tells people about the other side of Law Enforcement." 
Hervey Cote, the MSPMLC's director of exhibits, was also at the event. Like Locke and Daly, he appreciates the reassuring message the painting sends. 
"We take pride in that it was a Massachusetts State Police Trooper in the picture," Cote said. 
He added that it was nice that the boy pictured could "find a police officer there to take care of him to make sure he got home safely."
Ultimately, that's what Locke hopes people today will see in "The Runaway." 
"I would like it to be an image of the police as people who help," Locke shared. "They're there to help you when you need it."