By Ed Karvoski Jr., Culture Editor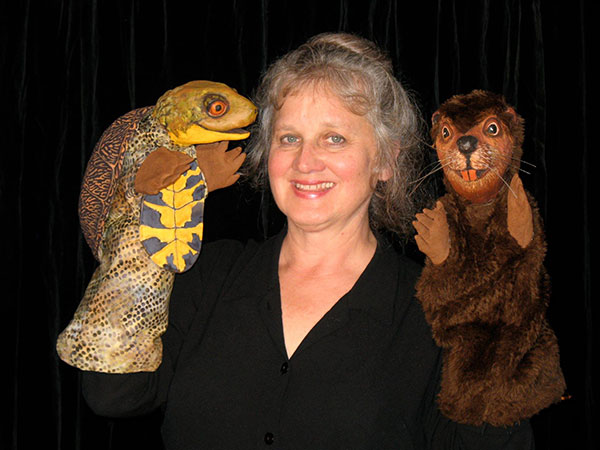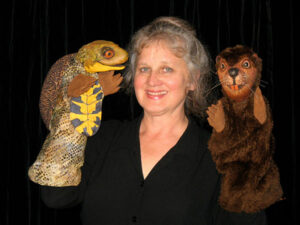 Southborough – Working as a professional puppeteer throughout New England since 1974, Debbie Costine of Southborough has incorporated her skills in visual arts and education. She received the 2008 USA Citation of Excellence from Union Internationale de la Marionnette, an international puppetry association. Debuting in 2011, her most recent show educates audiences in a subject close to heart: the natural environment.
"I'm an avid naturalist and love the wetlands," she declared. "I live on the Sudbury River and have a beaver dam behind my house. The wetland is a beautiful place to paddle around very slowly in my little kayak."
Raised in northern New Hampshire, she took note of the Bunny Rabbit puppet on the children's television program "Captain Kangaroo." A 10-year-old Costine transformed a paper-mache-covered lunch bag into a still-cherished clown puppet.
After graduating with a bachelor's degree in art education from Plymouth State University in 1972, she moved to the Boston area and pursued drawing classes. Costine attended drawing sessions hosted by Copley Society of Art on Newbury Street. There, she befriended artist-puppeteer Lenny Gerwick, now of Marlborough.
In 1974, they co-founded Gerwick Puppets. Costine cites an early-1980's memory exemplifying their ambitious efforts when they performed at four different locations in one day.
"We were determined to do puppetry as a living, so we took every single job that we could get," she relayed. "We calculated the time needed for travel, performances and dismantling."
She created puppets and props while he painted scenery. They collaborated on scripts. Gerwick Puppets steadily got bookings at schools, libraries and community events.
Costine and Gerwick joined Boston Area Puppetry Guild, whose meetings take place at Puppet Showplace Theater in Brookline. They began performing at the theater in the late-1970s.
"Puppet Showplace Theater presents the best puppetry companies in the country," Costine said. "I like that parents come to the theater with their children and the shows appeal to them as well. It's an amazing institution and a great place to perform."
While performing with Gerwick Puppets, Costine concurrently began in the late-1980s to present solo shows.\
"I wanted some simplicity," she explained. "The Gerwick Puppets' shows got bigger and more elaborate with scenery, lights, props and music. I wanted to do shows that I could pack in the backseat of my car, and wouldn't involve so much hauling and set-up time."
Costine received a grant from the Jim Henson Foundation to help her develop and debut the show "Turtle's New Home" in 2011. The show is now known as "Turtle's Wetland Quest."
After researching the subject for two years, she created puppet characters of a turtle, beaver and salamander, as well as a set depicting plants and trees found in a wetland. Puppets tell the story of the turtle needing a safe habitat due to fragmentation.
"I chose a Blanding's turtle because it's an endangered species in eastern Massachusetts," Costine noted. "The turtle has a need and the beaver has the solution. A beaver is the only animal that can create a habitat. The character rounding it out is the salamander, who is friends with the turtle because they need the same basic habitat."
Among the many venues where she has presented "Turtle's Wetland Quest" is Boston's Museum of Fine Arts in 2017. Gerwick Puppets retired this past fall with its final show for the Fall River Public Library. Costine's upcoming solo shows include return appearances at Brookline's Puppet Showplace Theater.
"My mission is to use all my skills to promote spending more time in nature," she said "Exposure to nature is hugely important for every human being."
For more information, visit deborahcostinenaturepuppets.com.
photos/submitted