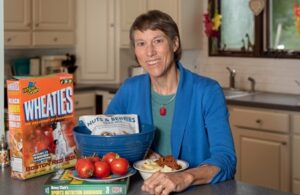 By Jane Keller Gordon, Assistant Editor
Newton – You don't have to be a star athlete to benefit from the deep nutritional knowledge of sports dietitian Nancy Clark, a board certified specialist in sports dietetics. You just need to want to live a healthier life.
Clark's primary goal is helping people find "peace" with food and fitness.
"The 'e' in eating is for enjoyment, not excess, and the 'e' in exercise is for enjoyment, not excruciating," she said.
Clark has helped many collegiate, elite, and Olympic athletes improve their fitness and performance.  She has published six books, blogs, speaks internationally, and has worked with the Bruins and Celtics and has been Team Nutritionist for the Boston Red Sox.
Clark completed her undergraduate degree in nutrition from Simmons College in Boston, her dietetic internship at Massachusetts General Hospital, and her graduate degree in nutrition with a focus on exercise physiology from Boston University. She has been honored with many awards from groups such as the Academy of Nutrition and Dietetics, the New England chapter of American College of Sports Medicine and the American Society of Nutrition's Media Award for her nutrition science writing.
She also had her photo and advice printed on the back of the Wheaties box for the company's 2004 Olympic series.
But it's not just high-level athletes who seek her advice. She also works with many seniors who seek her out in her Newton Highlands office.
She describes them as:
"Gung-ho folks who have retired and immediately start training for an Ironman Triathlon;
People who say life is short. Too many of my friends have cancer and heart disease and I don't want to go there;
The spare tire group who are unhappy with midlife body changes and undesired weight gain."
While acknowledging that each person's body is different, and no one diet or food plan fits every case, Clark offers this important nutrition tip for all seniors: protein pacing.
"Today's buzz word is protein pacing, which means eat protein every four hours," she explained. "For example, eat protein when you have breakfast at 7 a.m., lunch at 11 a.m., a snack at 3 p.m., and dinner at 6:30 or 7 p.m."
"Fueling during the active part of the day and losing weight while you're sleeping," is important, she noted.  "Have a good breakfast, lunch, and afternoon snack, and eat less at dinner. The goal is to wake up ready for breakfast. That means you didn't overeat the night before."
"Lots of people think that oatmeal for breakfast, salad for lunch, a granola bar for a snack, and salmon for dinner is a good idea. It's not! They need to divide that salmon into four portions of protein, and eat it evenly throughout the day."
"A good breakfast has at least three or four kinds of food, like grain (cereal) to fuel your muscles, dairy (milk) that gives you calcium for bone-health, fruits and/or veggies for vitamins and minerals, and protein (nuts) to build and repair muscles," she added.
Strengthening muscles —by lifting weights or doing push ups, for example — and eating protein before and after exercise is all about maintaining muscular strength, Clark said.
"We either use it or lose it when it comes to muscle. We need to avoid becoming frail by giving our muscles the exercise and food it needs to stay strong," Clark said. "We're either fueling up or refueling."
Clark recommends active people enjoy a combination of carbohydrates (to build) and protein (to repair muscle).
"For example, fuel up with a small portion of cereal and milk before you work out, and refuel with egg and toast or Greek yogurt with granola after you work out," she said.
She believes that many of the diseases of aging — type-2 diabetes, heart disease, cancer, high blood pressure, and osteoporosis — can be avoided or minimized through regular exercise and weight management.
Clark encourages each member of the over-50 crowd to, "… appreciate their body for all the wonderful things it does for you. It runs. It bikes. It carries you back and forth to work. Maybe there's a little bit more of you to love right now, but it's never too late to start to improve your fitness and take good care of yourself."
"My best advice to seniors is to fuel evenly throughout the day, do protein pacing, don't go hungry to dinner — whether at home or at a restaurant — and stay active and stay strong. Do push ups and sit-ups. Lift weights. Build activity into your lifestyle. Get a dog!" she said.
On her website's blog, she also addresses many topics such as white flour, dairy, GMOs and "clean eating".
To learn more about Clark visit her website at www.nancyclarkrd.com. To contact her call 617-795-1875 or email [email protected].