By Jane Keller Gordon, Assistant Editor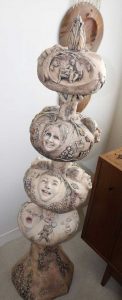 Worcester – There's nothing retiring about Rosalie Olds.
At age 90, she's an active ceramic sculptor and art teacher, and two years ago, she became a published author.
Love and admiration filled the Great Room at The Willows at Worcester this past April 1, when about 200 people, including her three children and three of four grandchildren, gathered to celebrate Olds' milestone 90th birthday.
Olds was one of the first residents at The Willows. She moved there in 2009 with her beloved husband Stan and their adored dog, Sarah, who is now 15. Unfortunately, her husband died the next year.
Clearly, she loves living at the Willows.
"The food is wonderful, the ambience is great. I can be with people or have privacy when I want it. I have a studio here with my kiln where I teach and work. Everyone here is my friend," she said.
Her spacious apartment is filled with the warm colors and textures of her whimsical ceramic sculptures — some made on a potter's wheel and others hand built. There's a piece that's a horse that is actually a teapot, and a three-headed swan that's a garden seat.
It's not a surprise that many of Olds' pieces have an animal theme; she wanted to be a veterinarian. Raised in the Bronx, she went to the University of Iowa, hoping to achieve that goal.
"If you wanted to go to veterinary school back then, there were very few options. I was accepted into the program, but I lost my spot to a veteran. I ended up majoring in zoology and minored in art," she said.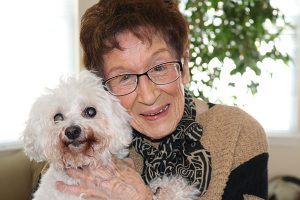 In addition to her studies, Olds met her husband of 58 years in Iowa, where he was a master's student in actuarial science. They married and eventually moved to Worcester in 1957 when Stan was hired by what is now Hanover Insurance.
Olds said that sculpture entered her life when she decided to craft centerpieces for her son's bar mitzvah.
What really made a difference for her was walking through the doors of the Worcester Center for Crafts. She honed her skills through lessons, and transitioned into a 40-year career in teaching there and at the Worcester Jewish Community Center (Worcester JCC).
She set up a large studio in her home, and passed on her artistic ability to her children: Claudia Olds Goldie is an award-winning sculptor; Leslie Blank is a graphic designer; and Guy Olds, who is now in real estate, was a cinematographer.