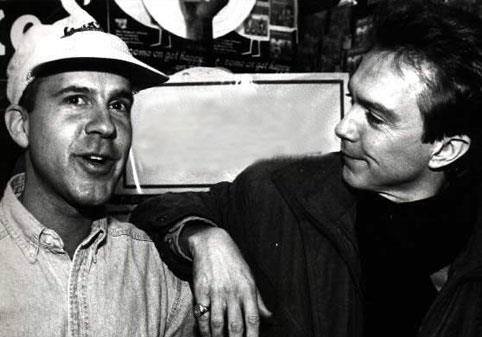 Barry Scott with David Cassidy during his 1997 book-signing appearance for "Could It Be Forever? My Story" at downtown Boston's Barnes & Noble
By Ed Karvoski Jr., Culture Editor
Boston – Radio deejay Barry Scott is committed to keeping more of the notable 1970s and '80s recording artists' songs heard during an era of tight playlists. He coined the phrase "The Lost 45s" in 1981 while a freshman hosting his show at Emerson College in Boston, where he studied radio, communications and creative writing. "The Lost 45s" is currently syndicated on 52 radio stations nationwide and available 24/7 online.
His vast record collection began while growing up in Newington, Conn.
"I bought tons of 45s," he recalled. "I never wanted to do anything other than be a radio deejay."
Scott's passion was encouraged by his middle school music teacher Katherine Brinnier, to whom he dedicated his book "We Had Joy, We Had Fun: The Lost Recording Artists of the Seventies." She subscribed to the music industry's Billboard magazine and posted its weekly top-100 songs in her classroom.
"It was invaluable what I learned about the industry before I started working," he said.
His radio education continued while in high school as an intern at Hartford's WPOP. In addition to writing advertisements and news copy, he learned the personal impact of a station abruptly changing its longtime format.
"I cried the day when WPOP switched from top-40 music to all-news," he acknowledged.
After moving to Boston in 1981 to attend Emerson, Scott proposed an idea for a radio show on the college's station WERS. He needed to describe why it would be unique.
"Once disco ended in 1979, no stations played '70s music," he explained. "My show was called 'Gold Rush' with songs from the'50s, '60s and '70s. When I played a Partridge Family song, saying that it was a 'lost 45,' the phone lines lit up. 'The Lost 45s' became the show's highlight."
Scott graduated from Emerson in 1985. On his 21st birthday, March 4, 1986, "The Lost 45s" launched with '70s and early-'80s music on Boston's commercial radio station WZLX. It subsequently aired on five other Boston stations, most recently WROR up to 2014. While the show continues online and in 52 markets nationwide, Scott is hopeful that it will return to a Boston radio station.
"The show deserves to be back in its hometown," he said. "I get emails and Facebook notes every day asking why I'm not on in Boston. My goal is to better serve people over 50 by giving them the other 90 percent of the music they grew up with – songs that aren't getting played on any Boston stations."
"The Lost 45s" has also featured over 900 recording artists' interviews. Soon after the show's 1986 commercial debut, Scott's first interview was with Terry Jacks. An 11-year-old Scott bought the Jacks album with his hit single "Seasons in the Sun."
"'Seasons in the Sun' was the biggest-selling 45 of the '70s with 11 million copies," Scott noted. "But no other deejay would play it after the '70s."
Scott produced a tribute to his show's most frequent guest, David Cassidy, soon after he passed away Nov. 21, 2017. Throughout the years, Scott brought Cassidy to Boston to perform concerts at dance clubs including Avalon and Zanzibar.
"David was on the show more times than any other artist," Scott noted. "He was always available for a call into the show. He always treated me and fans very well."
Scott plans to continue sharing "The Lost 45s" with more new interviews into the future.
"I'm still as excited about doing the show now as I was in college," he said. "It's still just as fun as it was then."
For more information about Barry Scott, visit lost45.com and facebook.com/lost45s.
photos/submitted