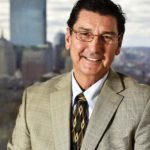 By Mike Festa, State Director, AARP Massachusetts
AARP is hard at work fighting for the interests of older adults across the country, including our renewed efforts to protect Medicare.  AARP Massachusetts is working on new legislation to prevent identity theft and to support family caregivers, and we are proud to announce two new bills submitted this session:
    HD.1491/SD.374 – An act removing fees for security freezes and disclosures of consumer credit reports
In order to help Massachusetts residents better protect themselves against identity (ID) theft and fraud, AARP Massachusetts is filing legislation that would remove fees for credit report security freezes.  AARP Massachusetts is pleased that State Sen. Barbara L'Italien (D-Andover) and State Rep. Jennifer Benson (D-Lunenberg) are legislative sponsors of this bill.
A credit report security freeze allows an individual to voluntarily choose to restrict access to her/his credit report. It does not affect the person's credit score, and can be removed at any time.  A credit report security freeze can make it more difficult for criminals to steal an identity by opening up new accounts in someone's name.
The three major credit reporting agencies — Experian, Equifax, and TransUnion — each charge a $5 fee every time a Massachusetts resident requests that a credit report security freeze be placed on her/his credit file. Residents must also pay an additional $5 fee to each agency every time they request suspension and/or removal of a freeze on their credit file.
Currently, Massachusetts residents who have been victims of identity theft may place a credit report security freeze on their file at each agency without paying a fee as long as they provide a copy of a police report detailing the ID theft. To check their credit file, however, victims must pay an $8 fee per agency to obtain a copy of their credit report.
The AARP Massachusetts legislation, known as "An act removing fees for security freezes and disclosures of consumer credit reports," would remove all fees when placing, suspending, and/or removing a credit report security freeze — regardless of the number of times a freeze is placed or removed — and would also remove the $8 credit report fee for those who are victims of identity theft.
     HD.610/SD.1553 – An act to establish the family caregiver tax credit 
AARP Massachusetts has also filed legislation to ease the burden on family caregivers.  An estimated 844,000 family caregivers in Massachusetts provide varying degrees of unreimbursed care to adults with limitations in daily activities.
Numerous studies have found that caregivers feel stressed by the financial burden of caregiving.  In order to successfully address the challenges of a surging population of older adults and others living with chronic conditions who have significant needs for long–term services and supports, AARP Massachusetts has filed legislation to establish a family caregiver tax credit, and is pleased that State Rep. Chris Walsh (D-Framingham) and State Sen. Linda Dorcena Forry (D-Dorchester) have sponsored this bill.
An act to establish the family caregiver tax credit would provide a tax credit for certain expenses incurred by a taxpaying family caregiver for the care and support of a qualifying family member aged 18 and older.  To be eligible for the tax credit, the family caregiver claiming the credit must have a federal adjusted gross income of less than $75,000 for an individual and $150,000 for a couple, and incur expenses directly related to the care of an eligible care recipient.
An eligible care recipient must: (1) be age 18 or over; (2) require assistance with at least one activity of daily living (ADL), as certified by a licensed health care practitioner; (3) and qualify as a dependent, spouse, parent or other relation by blood or marriage to the family caregiver.
The amount of the credit is equal to 50 percent of the eligible expenses incurred by the taxpayer during the taxable year, with a maximum allowable credit of $3,000. The taxpayer is not entitled to a refund, carryback, or carryforward of any credit.
Stay up to date on the latest caregiving and advocacy news with AARP Massachusetts.  Visit www.aarp.org/ma or call toll free at 866-448-3621. Archives of articles from previous issues can be read at www.fiftyplusadvocate.com