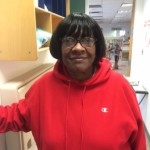 Miriam Manning, 91, has been a Foster Grandparent at the ABCD Dorchester Head Start center for more the 20 years.
Photo/submitted
By Jane Keller Gordon, Contributing Writer
Boston – Monday through Friday, Aziline Booth, 66, looks forward to seeing her "grandchildren" at the Community Action Agency of Somerville (CAAS) Head Start Program in Cambridge.  For the past four years, sometimes leaving at 6:30 a.m., "Miss Aziline" travels by three different buses from her Cambridge home to the program at the Frisoli Center.
She is a foster grandmother, part of the Foster Grandparent Program (FGP), run by the Massachusetts-based Senior Corps through the Corporation for National Community Service (CNCS).
Now in its 50th year, the Senior Corps boasts 270,000 volunteers nationwide who participate in the FGP, Senior Companions, and RSVP, a volunteer network. There are 8,600 volunteers in Massachusetts, including 780 foster grandparents who support over 4,400 young people with special needs, according to Sherry McClintock, Massachusetts' State Director at CNCS.
The foster grandparent program seeks seniors with limited incomes, and provides a small tax-free stipend for those who are eligible. Older volunteers (55+) are screened and trained to mentor and support these special children. They spend from 15 to 40 hours a week, mostly in schools, but also in after-school programs, and health care centers.
"To hear a child enter a classroom and say 'Good morning, Grandma' is priceless," McClintock said. "A value cannot be placed on the impact the Foster Grandparent Program has on the children they serve."
"FGP volunteers serve students with special and exceptional needs. They help with academics, but also provide support in the development of fine and gross motor skills.  The 'grandparents' are able to demonstrate life lessons in a supportive and caring environment," McClintock added.
There are seven locations in Massachusetts with FGP programs. These are: Action for Boston Community Development (ABCD); Citizens for Citizens, Inc., Fall River; Merrimack Valley Community Service Corps Inc., Greater Lawrence/Haverhill; Community Teamwork Inc., Lowell; Coastline Elderly Services, Inc., New Bedford; Urban League of Springfield; and Catholic Charities – Greater Boston, Somerville.
Kathleen Keenan, director of Catholic Charities' FGP, noted said that her group has 41 active volunteers, and two volunteers who are about to rejoin the effort.
"[The volunteers] are a fascinating group of individuals – each with their own story – who have strength, resilience, experience, and wisdom.  Over the years, I have come to know them, their families, their struggles, and their accomplishments," she said.
Keenan added that many of the volunteers live alone, and the program provides them with important social connections, a sense of purpose, and a boost to their self-esteem.
She said that the children benefit from the intergenerational relationship.
"Many of these children may not have contact with their own grandparents or elders in general. Besides the emotional support offered by someone whose day-to-day presence states 'I see you, I hear you, I believe in you,' academic support is offered ranging from assisting with fine motor skills to the three R's," said Keenan.
Tracie Morrisey is the lead teacher in the Head Start classroom where Booth volunteers.  Morrisey said that Booth retired as a former teacher at the Frisoli Center, and after some time, came back as a foster grandparent.
"She's awesome. I don't have enough praise to give her. She's great with kids and knows the ins and outs of our program because she used to work here," Morrisey said. "She is the only foster grandparent that I will ever have in my classroom. I will have been spoiled."
Booth works with three boys and a girl, all who speak English as a second language. She focuses on helping these students prepare for kindergarten. She provides constant positive reinforcement, and builds self-esteem. She helps them develop their pencil grip by writing their names, and cutting.
"I love [being a foster grandparent]. It gives me something to do every day. I like being with kids instead of sitting at home," she said.
When asked about Morrisey she noted, "I like the way she talks to the kids. We always have fun. I wouldn't leave her and go to another classroom."
If you are interested in learning more about the foster grandparent program, contact McClintock at 617-565-7006 or SMcClintock@cns.gov. Visit www.nationalservice.gov for more information as well.