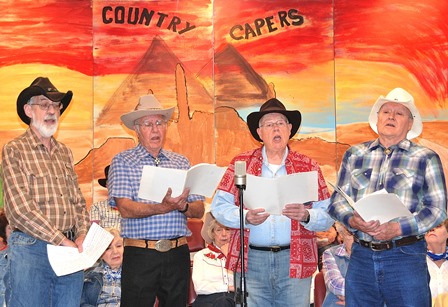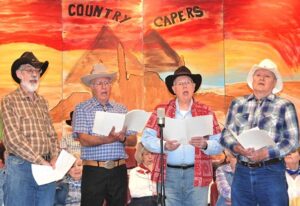 (l to r) Evans Cheeseman, Bill Harrington, Jack Gracey and Ford Sanborn sing "Home on the Range."
By Ed Karvoski Jr., Contributing Writer
As the founders, producers and directors of the Southborough Senior Songsters, Jim and Linda Duncan of Westborough are accustomed to packing sheet music and traveling to the Southborough Senior Center for weekly rehearsals. They also frequently hit the road for sing-alongs and performances throughout central Massachusetts.
"Singing makes people feel good, and they forget about their worries and pains," Jim said. "Many of these singers remember growing up with a piano in the living room and singing on a Sunday afternoon. In a lot of ways, we're doing the same thing."
Jim and Linda discovered they shared musical interests when they met in 1994. In addition to being pianists, each plays the theater organ. On their first date, Jim serenaded Linda with his rendition of "Getting to Know You." They married in 1996.
They founded the Southborough Senior Songsters in 2001 with six singers. Around that time, Jim had retired as an electronic engineer and began actively pursuing his passion of music. Now, the group is comprised of about 30 members, ranging in age from 60 to 93, from Framingham, Grafton, Hudson, Marlborough, Northborough, Shrewsbury, Southborough, Sutton and Westborough.
Jim leads the weekly practices from fall through spring; Linda becomes more involved as they prepare for performances.
In 2010, they staged "The Fabulous '50s." By popular demand, they gathered more '50s favorites for their 2011 presentation with golden oldies by Eddie Fisher, Dean Martin, Johnny Mathis, the McGuire Sisters and Hank Williams. In 2012, they performed "The Sizzling '60s" featuring songs by Patsy Cline, Nat King Cole, Neil Diamond, Tina Turner and the Vogues.
"Doing this brings back a lot of memories," Jim said. "People love the music they knew as a teenager. They love to go back to when they were young."
Their 2013 show, entitled "The '40s Hit Parade," prompted lots of memories.
"The singers really wanted to do something with '40s music," Jim said. "I remember listening to 'Your Hit Parade' on the radio at my grandmother's house, so I came up with the theme 'The '40s Hit Parade'"
They crooned classics originated by the Andrews Sisters, Bing Crosby, Doris Day, Ella Fitzgerald and Frank Sinatra.
"The '40s was a great era for music," Linda said. "The singers know all of the songs, so they're comfortable singing them."
They revisited the '40s for their 2014 show with a new repertoire of songs.
This year's show, "Country Capers" spanned several decades. Country tunes ranged from "Happy Trails," the theme song of the Roy Rogers and Dale Evans radio program beginning in the 1940s, to the comedic "If My Nose Was Running Money," released by Aaron Wilburn in 2003.
"There's more humor in this show than we had done in the past," Jim noted.
In addition to comedy sketches, "Country Capers" featured a good-naturedly R-rated parody of "Are You Lonesome Tonight?"
After premiering their annual musical comedy revue at the senior center, they take the show on the road beyond Southborough. They perform at the Briarwood Continuing Care Retirement Community in Worcester, The Willows at Westborough, and Christopher Heights in Marlborough. They also lead a weekly sing-along at the Beaumont Rehabilitation and Skilled Nursing Center in Westborough.
At the end of each season, the couple invites the songsters to a dinner party at their Westborough home, which is furnished with a piano and a theater organ, Linda noted.
"We'll play and play, and they'll sing and sing," she said. "One time a few years ago, some of these people had gotten up early that morning, went to choir practices at different churches, and then went to the senior center to warm up before putting on the show. Then they came to our house for dinner and afterward we had a grand sing-along. At 9 o'clock at night, Jim started playing 'Show Me the Way to Go Home' and 'Goodnight, Ladies' – and they're all still singing away. Finally, Jim said to me, 'I think we need to get out the sleeping bags!'"
The Senior Songsters are eager to travel for rehearsals, performances and dinner parties.
"It's all about the joy of music," Jim said. "They'll go anywhere to sing the music that they enjoy."
Photos/Ed Karvoski, Jr.