By Bonnie Adams, Managing Editor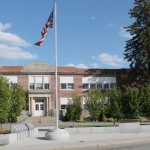 Shrewsbury – After nine years, work on the new Shrewsbury World War I monument, located in front of the Beal Early Childhood Center on Maple Avenue, is finally complete.
The original monument was built in 1933 in honor of Maj. Howard Beal, who was killed in action on the Western Front in 1918. Over the ensuing decades, the monument had deteriorated beyond repair.
In 2006, the WWI Memorial Committee under formed under the auspices of the Shrewsbury Veterans Council and town manager. The committee organized a major fundraising drive that saw everyone from school children to companies and private benefactors contributing.
The monument was rededicated on Veterans Day, Nov. 11, 2013. And recently, the final piece, a bronze plaque listing the names of all 118 residents who served in 1981, including those eight who were killed in action, was placed at the site.
It reads: "The people of Shrewsbury hereby honor the memory of the eight men who made the ultimate sacrifice, and commemorate the service of each resident, all one hundred sixteen men and two women, who served in the First World War, the 'Great War'."
Besides Beal, the other residents killed in WWI were James E. Conlon, Herbert B. Hapgood, Joseph W. Hickey, Michael J. Nee, Byron E. Stone, Raymond Stone, and James Schouler.