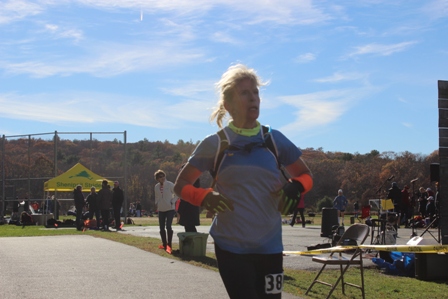 By Lori Berkey, Contributing Writer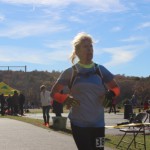 Leominster – When Kris Gleason was in high school, she was sedentary and never did sports. She smoked and considered herself "extremely overweight."
Now, at age 52, she's an extreme athlete. Having started running at age 32, she's achieving her fastest times in her 50s. The Leominster resident won her age group in a recent adventure race, and placed fifth overall in the Stone Cat 50 miler last November in Ipswich.
"I started to run to lose weight," Gleason said, "My neighbor ran and we started to run together. I put one mile together and then three years later I did my first marathon."
Since then, Gleason has run over a dozen 26.2 races, eight of those Boston marathons. Later, she added Boot Camp workouts, and slowly CrossFit became her lifestyle. CrossFit routines involve continually switched up, purposeful moves at a rapid pace, building strength and speed.
"This is not a typical gym where you spend hours picking up dumbbells and socializing, " she said. "We cheer each other on, everyone gets a high-five at the end of workout."
When some of her CrossFit comrades signed up for an adventure race, Gleason decided to give it a whirl.
"I joined in and this became my new addiction," she said.
Since turning 50, Gleason has done five solo adventure races. Her most grueling was an eight-hour competition at Mt. Killington in Vermont.
"It was 15 miles of trails up and down Killington at least five times. There were water crossings that were a quarter mile long, four 12-foot walls in a row; under and over barbed wire fencing for a half mile; pulling yourself through mud, jumping off 15-foot planks," she recalled.
Prior to her 50-miler, Gleason did several 31-mile ultra-marathons – all on trails.
"I love being out in nature with the animals and just me," she said.
One particular animal she loves having on the trails is her daughter's dog, Cali, who keeps pace right beside her. The canine has her own backpack and carries her own water, dish and snacks.
To train, Gleason logs 30-35 miles weekly, with a 16-22 mile run on Saturdays. During the week she adds an intense eight-miler on the treadmill, and 4-5 mile runs on the road rounded out with CrossFit and squat repeats. She's working with a trainer to build the stamina to cross 30-foot-long monkey bars.
Extra-long races gratify her.
"I love ultra-running because it me against the clock," she said, "I do it as a sense of accomplishment. This is the one event I do not try to compete in. This is for me and only me."
Staying nourished during ultra runs is another challenge.
"Because these are about 6-9 hour runs, you burn a lot of calories. I had to learn to eat," Gleason said.
Her ultra-diet consists of potatoes rolled in salt; pretzels, chocolate, and peanut butter and jelly sandwiches. She drinks flat Coke to settle her stomach, and sips about 150 ounces of water per outing.
Exercise is Gleason's savior.
"I love working out. I love the high it comes with it," Gleason said, "Every day I can run, I am thankful I am able to do this. I have a 25-year-old daughter who is now hooked on the gym."
Gleason encourages others to get fit. "Everyone should just try to get out there and move," she said.