By Sondra Shapiro
Working past traditional retirement age could be beneficial to your health — mental health that is.
While many older Americans delayed retirement or re-entered the workforce during the recent economic downturn, besides the obvious financial incentives, an unexpected benefit might be the delay of dementia or Alzheimer's disease. According to a new French study, for each additional year of work, the risk of getting dementia is reduced by 3.2 percent.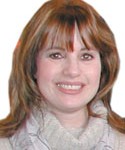 Dementia is the second largest contributor to death among older Americans — heart failure is first — according to the Alzheimer's Association. One in every three seniors dies afflicted with Alzheimer's or another dementia.
Over 5 million Americans are living with Alzheimer's disease today, including an estimated 200,000 under the age of 65. By 2050, up to 16 million will have the disease, according to the Alzheimer's Association.
So the study of 429,000 French workers offers a lot to think about. Study participants had an average age of 74 and had been retired for an average of 12 years. Nearly 3 percent had developed dementia but the risk of this was lower for each year of age at retirement, according to an Associated Press report. A person who retired at 65 had about a 15 percent lower risk of developing dementia compared to someone retiring at 60, after other factors that affect those odds were taken into account, said lead researcher Carole Dufouil, the director of research in neuroepidemiology at France's National Institute of Health and Medical Research (INSERM).
It is logical to wonder if a person retired because of mental decline. To rule that out, the researchers excluded anyone who developed dementia within five years of retiring.
"The trend is exactly the same, suggesting that work was having an effect on cognition, not the other way around," Dufouil  said at a recent Alzheimer's conference in Boston.
There's plenty of financial incentive to continue working. One big reason: For every year someone puts off collecting Social Security, the monthly benefit increases about 8 percent until he or she turns 70, at which point the maximum has been reached.
The French study supports other data that suggests the brain benefits from mental exercise. The "use it or lose" it philosophy is being proven over and over again in other studies. So a person should not use the fear of Alzheimer's as the only reason to keep working. The findings of the study also make the case that if someone decides to retire, he or she should have other activities to fill those waking hours.
Heather Snyder, director of medical and scientific operations for the Alzheimer's Association, told the Associated Press, "It's more staying cognitively active, staying socially active, continuing to be engaged in whatever it is that's enjoyable to you" that's important.
"My parents are retired but they're busier than ever," said Snyder. "They're taking classes at their local university, they're continuing to attend lectures and they're continuing to stay cognitively engaged and socially engaged in their lives."
Other studies concur that brain simulation such as word puzzles, games, academic courses and volunteering, to name a few, help keep dementia at bay. Exercise and eating a heart-healthy diet have also been proven to keep brains in fine working order.
Since the mid '90s, the trend has been for Americans to stay in the workforce longer. According to a Gallup poll in May, three-quarters of U.S. adult workers believe they will continue working past retirement age, with 40 percent saying they will do so because they want to and 35 percent because they will have to. Only 19 percent said they plan to stop working at retirement age by choice. Perhaps these statistics will mean fewer Americans will experience mental decline than current research predicts.
Only time will tell. In the meantime, the promise of mental acuity and financial security are great reasons to continue working. That said, a major life decision to work or retire deserves careful, contemplative planning. The results of one study should not be the sole deciding factor. Remember, there are lots of ways to keep the mind sharp. The important message from this and other studies is, "use it or lose it."
Sondra Shapiro is the executive editor of the Fifty Plus Advocate. Email her at sshapiro@fiftyplusadvocate.com. And follow her online at www.facebook.com/fiftyplusadvocate, www.twitter.com/shapiro50plus or www.fiftyplusadvocate.com.