By Angela Rocheleau
Older Americans who grew up in the era of rotary-dial phones and black and white TVs are a rapidly making their mark on social networking websites. Americans over the age of 60 are the fastest growing segment of computer and Internet users. It is true that technology and use of the Internet can improve and enhance quality of life, inform and promote independence.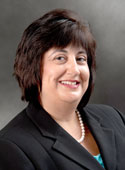 But, seniors are also potential targets of cyber criminals and need to learn how to protect themselves online. Some steps, which all Internet users should take, are:
•Make sure you have an anti-virus and anti-spy software installed in your computer and make sure it is updated frequently.
•Make sure your computer firewall is turned on. It is an effective way of blocking unauthorized access to your computer and sensitive information in files. If you are using a wireless router for your home network, make sure it has adequate security.
•Passwords — As recommended by the National Cyber Security Alliance, make sure your passwords are "long and strong" by combining capital and lowercase letters with numbers and symbols. Separate passwords for separate accounts will make things more difficult for cyber-criminals.
If you are an active Internet user be savvy about protecting yourself on the web. Don't get hooked by phishing schemes. — A variation of "fishing," the idea is that bait is thrown out with the hopes that while most will ignore it some will be tempted into biting.
It is the act of sending an e-mail to a user falsely claiming to be an established legitimate enterprise in an attempt to scam the user into surrendering private information that will be used for identity theft. The e-mail directs the user to visit a website where they are asked to update personal information, such as passwords, credit card, Social Security, and bank account numbers, that the legitimate organization already has. The website, however, is bogus and set up only to steal the user's information.
Here are a few other quick tips for seniors on the web:
•Beware of links in emails of sites you don't recognize. Don't ever provide personal information as a result of an email or pop-up. Reputable businesses never ask for personal information via pop-ups or email. If online offers seem too good to be true, they probably are.
•Downloading software, music or videos offered as "free" may come at a high price- they might include malware or spy ware that can infect your computer or steal personal information. Download files only from sites you know and trust.
•Beware of people you meet for the first time on social networking sites. Don't reveal personal information about yourself, your family or friends that may compromise safety or identity. Familiarize yourself with the privacy settings on the social networking sites, such as Facebook, and choose the appropriate settings for you.
The Internet can open a wide world of information for seniors. Enjoy the adventure of web surfing, but be sure to protect yourself from cyber-thieves.
Angela Rocheleau has 25 years of experience in the home health care industry focusing on leadership roles for the past two decades. She serves on the Better Business Bureau board of Central New England and the Executive Board of the Mass Council for Home Care Aides.