By Angela Rocheleau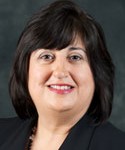 The Sandwich Generation is a term that has been coined to describe the generation that is still raising children while having some or all caretaking responsibilities for aging parents. I find myself a member of this growing and very prevalent group. I am a full time career person nearing the final stretch of raising three children. I also have aging parents and parents in-law for which I am very thankful. So I am part of the Sandwich Generation. Are you?
How does one handle a 40 hour-plus workweek, carting kids back and forth to school and activities, household responsibilities and then caring for senior family members? Throw in a marriage, a social life, and on occasion a second job or home? Is it any wonder we live in such a stressful time?
At one time, lifestyles were very different. Families had one person at home full time while the other worked. As family members aged, it was the at-home person's (usually a daughter or daughter in law) responsibility to care for an elderly family member. Senior care took place either in the caregiver's own home or the home of the aging parent. When that option was no longer feasible, the senior progressed to a long-term care facility.
Times have changed. The era of a one-income family is nearly extinct; our population is living longer, and seniors want to age in place and remain independent. Adult children are striving daily to care for their parents, raise their families and continue to work. As always, the issue is complex and has many fiscal ramifications. The very positive reality though in 2011, is that there are many options for senior care.
Options today run the gamut from assisted living, senior housing, independent living, adult day health, and Pace programs such as Summit Elder.
There are certified and private duty home health care services that can complement the above-mentioned services or act as standalone. As needs progress there is long term facility care and hospice care programs. There are also respite options for the fulltime caregiver to assist when there is need for a well-deserved break or vacation.
What is right for you and your family? That question also offers options that require thoughtful discussion and research with your entire family, including your senior loved one. Who will be the primary support person for your loved one as they age? What kinds of services will you employ? And the frequency that you will need to accomplish these goals? Begin your research prior to that last crisis.
Conduct research on the web, discuss with other Sandwich Generation members and call local agencies specializing in elder care. Some cases are so complex they may require the services of other professionals such as geriatric care managers, elder law attorneys or financial planners. Quality professionals that specialize in elder care are more than happy to act as a resource to assist you to navigate this complex system and to offer further resources.
We spend hours and hours researching a new car purchase, college for our kids and vacation plans. If you are part of the Sandwich Generation start exploring options now.
Angela Rocheleau has 25 years of experience in the home health care industry focusing on leadership roles for the past two decades. She serves on the Better Business Bureau board of Central New England and the Executive Board of the Mass Council for Home Care Aides.