By Sondra L. Shapiro
Barbara Streisand, old? Diane Keaton, old? Michael Douglas? Steve Martin? Jane Fonda?
Maybe it's me, but I just don't think of these entertainers as being old.
Yet, there they were — featured online on the homepage of TVGuide.com in a pictorial story titled, "Old People We Love." As I flipped through the photos and bios, I actually had to return to the headline twice just to make sure I was perusing the right story.
Indeed, these actors appeared on a list that also included Betty White, Barbara Walters, Cloris Leachman, Sean Connery and Clint Eastwood, who may be legitimately considered senior, from my vantage point. That said, as a 57-year-old, I understand there may be older readers who will take issue with the celebrities I singled out as being seniors.
I have difficulty thinking people who are no more than a decade older than me are old — like Ed O'Neill, born in 1946, Helen Mirren, born in 1945 or Robert De Niro, born in 1943, all of whom were profiled on the "Old People We Love" list.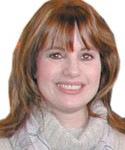 Was it really that long ago that I was prostrate on my exercise mat after a session of "making it burn" with buff-bodied Fonda?
Realistically, the definition of old age is subjective, depending on the decade the interpreter is living in.
Years ago, we had a 20-something-employee who upon hearing that a prominent member of the community died in his early 60s, referred to him as being old — while the rest of us, who were then in our early 40s, cringed a little at the comment, and thought it was a tragedy that he died so young.
So I'll cut the writer some slack re-garding the TV Guide list. The story is really a jumping point to a more important consideration, anyway. Could the tides be turning with regard to our perception of aging people?
If so, since our pop culture icons are usually good indicators of where our society stands on things, just by putting the word "love" in the same headline with "old" indicates an about face in attitude.
Since White is all the rage, perhaps our culture is beginning to be less fearful of aging and its unspoken implications. It's not so much the cut-off age we consider as "old," but more important how we perceive those who are "old."
Ever since White, then age 88, hosted the hip Saturday Night Live — her appearance was prompted by a Facebook campaign, no less — "old" people are becoming mainstream pop culture. For a while now, I've noticed an uptick in movies and TV shows featuring over-50 actors in roles that aren't reduced to aging stereotypes.
When you consider the actors and famous personalities featured in the TV Guide list, many are still making quality contributions to TV, film and news media, despite their "old" age status.
Traditionally age-phobic, bottom-line Hollywood seems to now believe money is to be made producing movies and TV shows starring older actors in leading roles. Keaton, De Niro and Mirren are being given some juicy material. Keaton seems to be hotter than ever, starring in romantic comedies, no less.
Mirren continues to hit it out of the park with riveting portrayals on screen such as her Academy Award winning role in The Queen. And, of course De Niro is still portraying compelling characters, as well as trying his hand at comedy. Martin, who was born in 1945, is credible as a lead in romantic comedies such as It's Complicated with Meryl Streep, who is herself over 60.
Walters continues to be a power hitter in the on air-news profession that has usually rejected aging women.
So if anything, after I got over my initial horror at seeing famous people not much older than me listed in the "Old People We Love List," I had a sudden revelation that long-held prejudices regarding age are becoming antiquated. That's not to say there aren't some lingering attitudes out there.
Some may argue that White's new darling status has more to do with the fact that people think it's funny and cute to watch an octogenarian engage in what is considered age inappropriate behavior. While one could see it that way, the fact that White just won a SAG Award for best actress in a comedy for her work in Hot in Cleveland — along with other over age 50 winners including Annette Bening for her work in The Kids are Alright, and Melissa Leo for "The Fighter" — is a legitimate sign that Hollywood is finally embracing "older" entertainers. In fact, I read in a couple of places that the average age for nominees and winners for this year's SAG Awards was over 50. Though I can't confirm this, it certainly seemed that way as I was watching the show.
That's why I don't take offense to the "Old People We Love" list … even if it makes me feel old.
Sondra Shapiro is the executive editor of the Fifty Plus Advocate. Contact her at sshapiro.fiftyplusadvocate@verizon.net or read more at fiftyplusadvocate.com.