Alan Pasnik at the Chesnut Hill Farm in Southborough
Photo/Jane Keller Gordon
By Jane Keller Gordon, Assistant Editor
Alan Pasnik, The Trustees of the Reservations (The Trustees) 2017 Volunteer of the Year has donated 1,500 hours of his time over the past two years, mostly with his hands, but also with his heart. A retired data analyst and skilled carpenter, Pasnik has built Adirondack chairs, retail displays, trestle tables, and many other creative pieces for The Trustees, a member-supported nonprofit conservation organization that preserves land, nature, and historic places in Massachusetts.
Annie Wolf, The Trustee's Volunteer Program Coordinator, said, "Choosing a Volunteer of the Year is always a wonderful challenge! This honor is one of the many ways we show our appreciation for our 2,500-plus incredibly hard working, dedicated, and creative volunteers, statewide."
"In a year when our Charles River Valley properties like Powisset Farm in Dover and Rocky Woods in Medfield saw a significant rise in popularity, Alan Pasnik's prolific volunteer contributions, including his carpentry and wonderful woodworking creations, were instrumental in improving the overall experience for our many visitors," she added. "We were thrilled to honor and recognize Alan for his important work."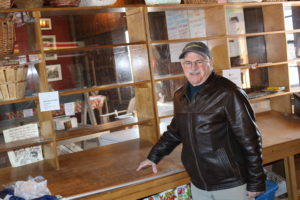 Growing up on Long Island, Pasnik's father, a dentist, taught him to use his hands.
"My father's attitude was that he could fix anything. He wasn't going to hire a contractor unless a project was too big," he said.
Pasnik, an engineer, moved to the Boston area in the early 1970s to attend the Sloan School of Management at the Massachusetts Institute of Technology. By the time he was 24, he had purchased a home on the Charles River in Newton. Forty-five years later, he and his wife live in that same house, although he has remodeled it from top to bottom.
Throughout Pasnik's career, which was in publishing, he used faster machines and bigger computers to automate data processing and data distribution.
"I helped manage technology and computer systems, and move from manual to fully automatic operations," he said.
Along the way, he continued to work with his hands.
"I maintained my father's attitude. I learned how to do carpentry. I was facile with tools," he said "I knew that if I screwed up a piece of wood, I could throw it away."
Pasnik had no plans when he retired two years ago. He registered with Volunteermatch.org, and saw that The Trustees were looking for a carpentry volunteer.
When he met Mike Francis, The Trustee's Stewardship Manager for the Charles River Valley Region, Pasnik thought that he would be building birdhouses. That was not the case.
His first project was building Adirondack chairs for Powisset Farm in Dover.
"I knew the property well. I spent years there cross-country skiing, hiking, snow shoeing, and mountain biking," Pasnik said.
To find the best plans for the chairs, Pasnik turned to a video by Norm Abrams, the well-known carpenter familiar to viewers from his appearances on the PBS television programs This Old House and The New Yankee Workshop. Pasnik first built a prototype, which he and others tested out to make sure that it fit shorter and taller people.
He wanted to build the chairs using cypress wood.
"I did some research online and found that Lowe's sold cypress, but it was located in Bufford, South Carolina. I made a call, and ended up getting a pallet shipped to Dover. That was great," he said.
One prototype led to a dozen chairs. Pasnik has made a few others out of fancier wood – mahogany and cedar – so that The Trustees could auction them off.
He also made tables for Powisset Farm, and a kid-size farm tractor and hay wagon, which he calls his "pride and joy."
At the Chestnut Hill Farm in Southborough, Pasnik worked on an elaborate retail display. Next year he plans to build a child-size replica of a beehive for that property.
Pasnik has also done significant work at the Rocky Woods location, including building ski, snowshoe, and fishing poll racks.
Growing up, Pasnik never knew that his father's mantra, "I can build anything," would lead him to a meaningful retirement. There are more chairs and tables to be built, and creative designs to dreamed up and brought to life.
For information on The Trustees of Reservations, visit www.thetrustees.org.