By Alice Bonner, Ph.D, RN, FAAN
Secretary, Massachusetts Executive Office of Elder Affairs
Boston – One of the top questions I get in my travels around the commonwealth is this: How can I, or the person I care for, stay as independent as possible as we age?
Providing answers to that question occupies the work we do every day at the Executive Office of Elder Affairs. Our mission is to promote the independence, empowerment, and well-being of older residents, people with disabilities, and their caregivers. Our vision is that they have access to resources they need to live well and thrive in each of the 351 cities and town in our state.
Ensuring access to information and raising awareness about resources available to older residents and their caregivers was one of a number of blueprint recommendation made recently by the Governor's Council to Address Aging, which advises the Baker-Polito Administration on how we can plan for and support a growing population of older residents now and in the future.
Did you know that we have more residents over the age of 60 than residents under the age of 20 living in our state? Far from a burden, this provides us with an incredible opportunity to make Massachusetts the most age-friendly state in the nation.
Our commonwealth is fortunate to have a world-class healthcare system and a network of aging services organizations that serve as a model for other states. But navigating these systems, which have helped our state rank as the healthiest in the nation, may seem overwhelming.
Sometimes, it's hard to know where to start.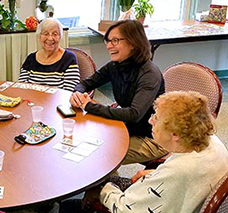 If you are looking for support as you grow older, or are caring for an elderly parent or someone with a disability, MassOptions can help. MassOptions is a service that helps people who don't know where to turn, and eliminates the need to call multiple agencies in search of assistance. The Executive Office of Health and Human Services and the Executive Office of Elder Affairs launched MassOptions in 2015 as a call center and website aimed at improving access to long-term services and support.
When you call 844-422-6277, a trained staff person will give you information that supports older people and people with disabilities live safely at home. You can get information on:
In-home Care
Health and Nutrition Services
Medical Equipment and Devices
Housing
Transportation
Other Support Services
The assistance offered by MassOptions is free and is designed to help you find and choose the supportive services that best fit your needs. MassOptions is right here in Massachusetts, and you can call toll free 844-422-6277, or visit the MassOption website at www.MassOptions.org.
To find out more about the Governor's Council to Address Aging in Massachusetts, and to see the council's initial blueprint recommendations, visit www.tinyurl.com/council-blueprint.